China rejected Thursday the 2005 Human Rights Report of US Department of State that branded it one of the world's worst human rights offenders, instead accusing Washington of hypocrisy and its own "serious violations".
The US State Department's annual report on human rights released on Wednesday described China as one of the "most systematic" violators in the world.
"The ... report turns a blind eye to basic facts, making irresponsible accusations about China's human rights situation," foreign ministry spokesman Qin Gang told reporters.
"We express our strongest dissatisfaction and resolute opposition," he said.
China also released its own annual report outlining what it said were a litany of US human rights abuses and offenses.
"The US State Department pointed the finger at human rights situations in more than 190 countries and regions including China but kept silent on the violations of human rights in the United States," the report said.
"For years, the US government has ignored and concealed deliberately serious violations of human rights in its own country for fear of criticism.
"We urge the US government to look squarely at its own human rights problems, reflect what it has done in the human rights field and take concrete measures to improve its own human rights status."
Among its charges, China said an estimated 100,000 Iraqis, mostly women and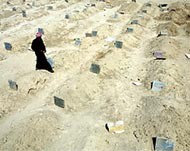 Iraqis set up a temporary cemetery in Fallujah. Tthey did not have enough time to bury the dead by US Army's attacks.
children, had died following the US-led invasion of Iraq in 2003.
The document, issued by China's cabinet, the State Council, also criticized the United States for the large number of self-maiming and attempted suicides among prisoners held by the US government in Guantanamo Bay, Cuba.
It also accused Washington of secret snooping, including wiretapping and gathering of information on US citizens opposed to the Iraq war.
It further highlighted "rampant violent crimes" in the United States and "serious" racial discrimination.
In its report, the US State Department placed China alongside Iran, North Korea, Myanmar, Zimbabwe, Cuba and Belarus as nations that deprived "wholesale" or "severely restricted citizens of basic rights".