Top US House Democrat Nancy Pelosi urged China and Saudi Arabia on Thursday to "step up their efforts" to help the Horn of Africa battle a disastrous

famine

, and pledged an enhanced US role as well.
"The drought and famine in the Horn of Africa is a challenge to the conscience of leaders around the world, and the United States and the international community must do more," Pelosi said in a statement.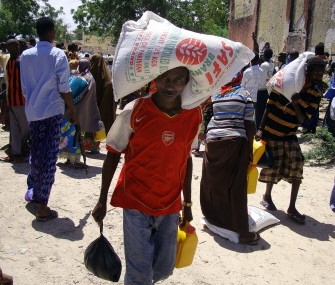 Displaced Somalis receive food aid distributed by Muslim Aid organization at a camp in southern Mogadishu's Bermuda neighbourhood on August 4, 2011.
US Secretary of State Hillary Clinton urged the Al-Qaeda-linked Shebab militants Thursday to stop blocking aid to famine-hit areas of Somalia and allow it to reach scores of starving people.
Clinton told a press conference it was tragic that the Shebab militants were preventing assistance from reaching the most vulnerable, children, during the Muslim holy month of Ramadan.
"I call on Al-Shebab to allow assistance to be delivered in an unfettered way throughout the area they currently control so that as many lives as possible can be saved," the chief US diplomat said