BEIJING, Aug 4, 2011 (AFP) - China has hit out at rival Japan over a defence paper that criticised Beijing's military build-up, branding the accusations "irresponsible".
Japan voiced concern in its annual defence report, released this week, over China's growing assertiveness in the South China Sea and Pacific Ocean, and what it called the "opaqueness" of Beijing's military budget.
Chinese foreign ministry spokesman Ma Zhaoxu said his country's drive to modernise its forces was "entirely for safeguarding its national sovereignty" and was "not targeting any other country".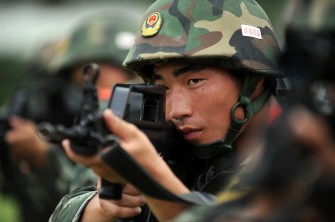 AFP - This photo taken on August 3, 2011 shows paramilitary soldiers training in Bozhou in east China's Anhui province.
"The Japanese 2011 defence white paper made irresponsible comments on China's national defence construction. China expresses its strong dissatisfaction," he said in a statement published late Wednesday.
"China's development is offering significant opportunities to all countries -- including Japan -- and China has not, and never will be a threat to any other country."
China's defence ministry also expressed "strong opposition" to the paper, saying it played up the "China threat theory" and had ulterior motives, the official Xinhua news agency said.
China broke off all high-level contact with Tokyo last September after Japan detained a Chinese fishing boat captain whose vessel collided with Japanese coast guard patrol ships in waters claimed by both sides.
The row between Asia's two biggest economies was their worst in years and undermined painstaking recent efforts to improve relations marked by decades of mistrust stemming from Japan's 1930s invasion of China.
The Chinese skipper was released after more than two weeks and the two countries, which have deep trade ties, have been trying to mend fences.
Japan's defence report used a Japanese word that can be translated as "overbearing" or as "assertive" to describe China's stance over its "conflicting interests with neighbouring countries, including Japan".
The paper also said China's defence spending was not transparent, saying that the budget publicly announced by China "is widely seen as only part of what Beijing actually spends for military purposes."
"Opaqueness in its defence policies and military movements are concerns for the region, including Japan, and for the international community, and we need to carefully analyse them," it said.
Earlier this year, China announced military spending would rise 12.7 percent to 601.1 billion yuan ($91.7 billion) in 2011 after funding slowed last year.
Beijing has repeatedly sought to alleviate fears over its pursuit of sophisticated missiles, satellites, cyber-weapons and fighter jets, stressing that the nation's defence policy is "defensive in nature."
It has invested heavily in developing its first stealth fighter jet, revealed in January, as well as an aircraft carrier and anti-ballistic missile capable of piercing the defences of even the most sturdy US naval ships.
However, China has become increasingly assertive in its claims over the East China Sea and South China Sea, most of which it views as its maritime territory, but where several other Asian nations have competing claims.