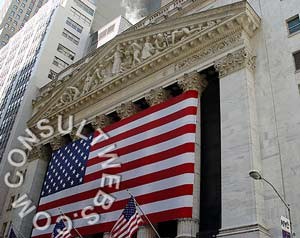 New York Stock Exchange headquarter
The Chinese government has agreed to allow the New York Stock Exchange and the technology-heavy Nasdaq to open up offices in China, the nation's finance minister said Friday.
Jin Renqing made the announcement as high-level Chinese and US delegations wrapped up two days of talks in Beijing on a wide range of economy- and trade-related issues.
A senior US Treasury official who was part of the American delegation said it was "another step forward in China's integration into the world's capital market."
As Chinese companies seek to tap global financial markets for funds, competition for their business among bourses across the world is heating up.
There are currently 18 Chinese companies listed on the New York Stock Exchange, including big names such as China Southern and China Mobile.
Some Chinese companies have also been attracted to European exchanges, often arguing that less cumbersome listing procedures make them a better choice than the United States with its tougher regulatory environment.
The best known example is flag carrier Air China, which picked London and Hong Kong for its 2004 overseas listing, citing the similar regulatory environments in the two cities.