A Beijing court Friday upheld the conviction and eight-year sentence meted out to a Chinese-born American geologist over state secrets charges in a case that has further tested already strained ties.
US Ambassador Jon Huntsman urged China to release Xue Feng following the hearing at which lawyers had sought to overturn the judgement.
"We ask the Chinese government to consider an immediate humanitarian release of Xue Feng," Huntsman said after he emerged from the Beijing High People's Court.
"I am extremely disappointed in the outcome," Huntsman told reporters, adding that he met Xue briefly after the hearing and described him as disappointed but "surprisingly strong and stoic."
No official court announcement was immediately issued.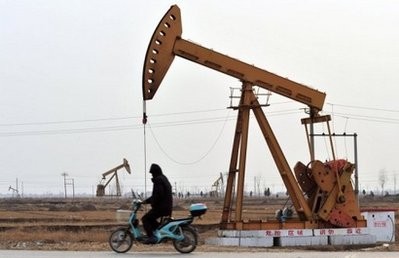 A man rides his scooter past oil rigs in northern China's Hebei Province.
The US has repeatedly raised concerns over whether Xue's rights were being protected and whether he had access to a fair trial and has called previously for his release.
President Barack Obama has personally raised Xue's case with Chinese President Hu Jintao, US diplomats have said.
Xue, a Chinese-born US citizen working for a private firm, was first detained in November 2007 over the sale of a database on China's oil industry when he worked for US energy and engineering consulting firm IHS Inc.
Both Xue and IHS have said they believed the database to be a commercially available product. It was only classified as a state secret after Xue had bought it, according to the Dui Hua Foundation, a rights group.
"We are all very, very disappointed when you consider that the charges are very questionable," said Huntsman, a former Republican governor of Utah state who is stepping down April 30 amid speculation he plans a 2012 White House run.
"This case has been brought up in every senior meeting that I've been involved with for almost two years," he said.
"We have not let this one go and I can tell you now, we are not going to let it go, even after today's decision. He is an American citizen."
The US embassy has previously said the case was not handled with the "transparency that would befit a nation which tells us that the rule of law is paramount in all judicial processes."
Xue's arrest and other cases have cast a spotlight on the dangers of doing business in China, especially for those born in China who have been educated abroad and taken a foreign nationality.
Australian national Stern Hu, an executive with the mining giant Rio Tinto, was sentenced to 10 years in prison last year on bribery and trade secrets charges, in a case that raised hackles in Canberra.
Rights activists say China routinely abuses its state secrets laws, often as a means of silencing government critics.