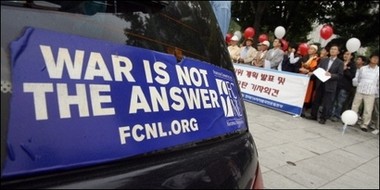 A car with an anti-war message sticker parked beside an anti-US demonstration outside the Government offices in Seoul. RoK warns that the sanction must push DPRK back to dialogue not to war. (AFP Photo)
China called on Democratic People's Republic of Korea (DPRK) not to escalate international tensions after Pyongyang on Tuesday dismissed the UN resolution imposing sanctions over its nuclear weapons test as a "declaration of war."
"We have noticed the statement by the DPRK," foreign ministry spokesman Liu Jianchao said when asked about the comments released earlier by the regime's official news agency.
"The important thing right now is that all parties concerned should refrain from taking any action that may further escalate the tensions."
Liu called the UN Security Council's resolution on Saturday an "important message" to DPRK in response to its atomic test and urged Pyongyang to "seriously treat and respond" to the appeal.
In DPRK's first reaction since the UN Security Council's unanimous weekend vote to punish Pyongyang for testing an atom bomb, a foreign ministry spokesman said having a nuclear weapon was the nation's right.
DPRK declared Tuesday that UN sanctions following its nuclear test were tantamount to a "declaration of war" as Japan sounded the alert over a possible second atom bomb test.
The country warned it would strike with "merciless blows" against any countries that impinged on its sovereignty.
The statement came as the United States sought to tighten the screws on the reclusive nation with a diplomatic drive aimed at cutting off its lifeblood by ensuring the UN measures are vigorously enforced.
Republic of Korea, which fears it will suffer most from any conflict, warned the sanctions must not push Pyongyang too far.
"Sanctions against the North should be carried out in a way to push DPRK back to the dialogue table," Prime Minister Han Myeong-Sook said. "They must not be implemented in any way that could spark an armed clash."