China said Saturday its exports continued to soar in June, as demand for Chinese-made goods remained robust despite Europe's financial woes and a tepid US recovery.
The nation's overseas shipments of items including electronic gadgets, shoes and textiles reached 137.4 billion dollars last month, up 43.9 percent from the previous year.
The pace of growth was slower than in May when exports surged 48.5 percent, but was better than most analysts had expected.
China posted a trade surplus of 20.02 billion dollars in June, up slightly from the month before, according to figures released by customs authorities.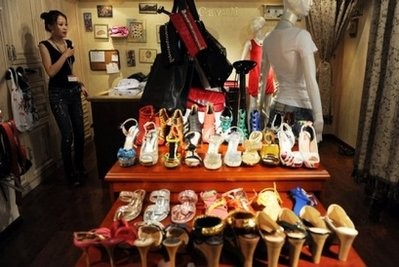 Shoes and other goods are seen displayed at a departmental strore in Beijing
The figure compared with a trade surplus of 19.53 billion dollars in May and 1.68 billion dollars in April.
Imports gained 34.1 percent year-on-year to 117.4 billion dollars, marking a slowdown from May when imports of raw materials and other products soared 48.3 percent.
"Stronger than expected exports show that external weakness has not yet shown its full impact," said Ken Peng, a Beijing-based economist for Citigroup.
"Growth momentum is slowing down, but not as sharply as expected and this should keep policy stable for now."
The strength in exports may have been underpinned by steelmakers and other raw material producers accelerating shipments before the government scraps tax rebates on some products this month, analysts said.
Royal Bank of Canada senior analyst Brian Jackson said the figures would increase pressure on Beijing to let the yuan appreciate at a faster pace.
"China has reported another strong trade surplus and next week we are going to see another large US trade deficit," he said.
"This contrast will likely add to the international pressure on Beijing to allow further currency gains to make a bigger contribution to global growth."
The numbers are the first trade data to be released since China vowed last month to let the yuan trade more freely against the dollar, though analysts said it was too early for the more flexible exchange rate to have impacted on exports.
The yuan has strengthened 0.8 percent against the greenback since the People's Bank of China pledged to loosen its currency controls on June 19.
A stronger yuan will make Chinese shipments more expensive but help boost consumer spending by reducing the cost of imported products.
In the six months to June, China's trade surplus fell 42.5 percent on year to 55.3 billion dollars, which customs said showed the nation's foreign trade was moving in a more "balanced direction".
The data come after Vice Premier Wang Qishan said on Monday that China must maintain stable growth in foreign trade and avoid volatility, noting global economic conditions remained "extremely complicated".
China will release other key economic data such as new bank lending, inflation and fixed-asset investment next week.