BEIJING, Aug 10, 2011 (AFP) - China's first aircraft carrier embarked on its inaugural sea trial Wednesday, Beijing said, a move likely to stoke concerns about the nation's military expansion and growing territorial assertiveness.
Beijing only recently confirmed it was revamping an old Soviet ship to be its first carrier and has sought to play down the vessel's capability, saying it will mainly be used for training and "research".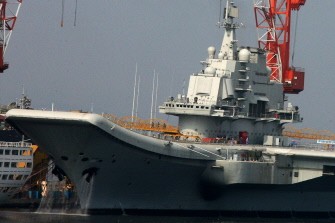 AFP - This photo taken on August 4, 2011 shows China's first aircraft carrier at the port of Dalian
The voyage comes amid heightened tensions over a number of maritime territorial disputes involving China, notably in the South China Sea, which is believed to be rich in oil and gas and is claimed by several countries.
The defence ministry said the carrier's first sailing would be brief, and that the ship would afterwards return to the northeastern port of Dalian for more "refit and test work".
Andrei Chang, head of the Kanwa Information Centre, which monitors China's military, told AFP it would probably test whether the engines worked, and that on-off sea trials would continue for another year or two.
China's People's Liberation Army -- the largest armed force in the world -- is extremely secretive about its defence programmes, which benefit from a huge and expanding military budget boosted by the nation's runaway economic growth.
Earlier this year, China announced military spending would rise 12.7 percent to 601.1 billion yuan ($91.7 billion) in 2011.
In January it revealed it was developing its first stealth fighter jet, and it is also working on an anti-ballistic missile capable of piercing the defences of even the most sturdy US naval ships.
The rapid expansion has caused concern among China's neighbours. Last week, Japan voiced concern over the country's widening naval reach and what it called the "opaqueness" of Beijing's military budget.
However, Beijing has repeatedly sought to alleviate fears over its pursuit of sophisticated weaponry and the official Xinhua news agency said the new carrier posed no threat to any other country.
"Building a strong navy that is commensurate with China's rising status is a necessary step and an inevitable choice for the country to safeguard its increasingly globalised national interests," it said.
"Even if China developed an aircraft carrier with full combat capacity in the future, it will not pose any threat to other countries."
China only provided the first official acknowledgment of the carrier in June when Chen Bingde, the nation's top military official, gave an interview to a Hong Kong newspaper.
But media reports and military analysts had said for years China was busy refitting an old Soviet aircraft carrier.
China has become increasingly assertive in its claims over the East China Sea and South China Sea, most of which it views as its maritime territory, but where several other Asian nations have competing claims.
The issue has heated up recently with run-ins between China and Vietnam and the Philippines, sparking concern among coastal countries and the United States.
Yin Zhuo, a military expert, told state television that the key to creating a fully operational carrier was aircraft pilot training.
"It can take three years to cultivate a qualified pilot... and then the pilot needs to practice on the carrier, which may take another year," he said.
Chang said the vessel did not appear to have arresting gear -- the mechanical system that rapidly decelerates a plane as it lands -- in photos he had seen.
"That's very strange. It's very complicated technology and the Chinese haven't installed it -- we couldn't find it," he said.
"That means they can't land any fighters, probably only helicopters."
China reportedly bought the carrier's immense armoured hull -- with no engine, electrics or propeller -- in 1998.
The 300-metre (990-foot) vessel -- once called the Varyag -- was originally built for the Soviet navy but construction was interrupted by the collapse of the Soviet Union in 1991.
According to Chinese state television, the carrier will not be officially named until it carries out its first formal duty.