China said Friday that consumer prices rose 4.9 percent year-on-year in February, well above the official target, but the government insisted it could keep inflation under control in 2011.
Rising costs of food, housing and other essentials have become a major source of anxiety for consumers and stability-obsessed policymakers, who are ever fearful that prolonged inflation could spark social unrest.
The consumer price index, the key gauge of inflation in the world's second-largest economy, was unchanged from January, and again surpassed the government's annual inflation target of four percent.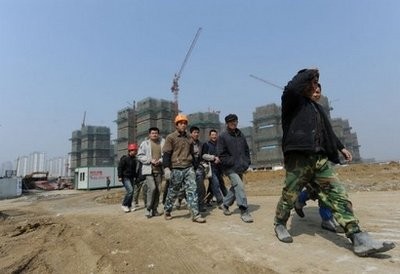 Chinese labourers are seen making their way through a construction site eastern China's Anhui province.
Analysts had expected inflation to stand at 4.8 percent due to lower vegetable prices and much-needed snowfalls across drought-stricken northern China, according to Dow Jones Newswires.
While officials said the situation was manageable, some analysts warned prices would continue to rise in the coming months.
"We are confident that we can maintain this year's prices at a stable level," Sheng Laiyun, spokesman for the National Bureau of Statistics, told reporters.
He emphasised that this would happen as long as "all local governments and all government departments carry out the decisions made by the central government and put curbing prices in a prominent position".
IHS Global Insight analyst Alistair Thornton said the data "represents a fairly strong inflationary picture" and warned inflation was "yet to peak".
"We believe inflationary pressure will remain quite high over the next couple of months," he said.
"More tightening measures are in the pipeline," he added, following three interest rate hikes in recent months and a series of increases in the amount of money banks must keep in reserve, designed to squeeze lending.
The statistics bureau last month tweaked the key inflation gauge by reducing the weighting of food prices while increasing the weight for rents and other housing costs.
"The reweighting improved the accuracy because food is falling in terms of peoples' spending. This is a necessary adjustment," Ken Peng, an economist at Citigroup, told AFP.
The country's producer price index, which measures the cost of products at the factory gate, rose 7.2 percent year-on-year in February compared with a rise of 6.6 percent in January, as global commodity prices soared.
Last week, Premier Wen Jiabao said in his speech to open the annual session of parliament that reining in prices was the government's "top priority" in 2011, as the country strives for a more balanced eight percent growth rate.
"Recent prices have risen fairly quickly and inflation expectations have increased," Wen said in his "state of the nation" address.
"This problem concerns the people's well-being, bears on overall interests and affects social stability. We must therefore make it our top priority in macroeconomic control to keep overall price levels stable."
Output from the country's millions of factories and workshops expanded by 14.1 percent on-year in the first two months of 2011.
Urban fixed asset investment, a measure of government spending on infrastructure, rose 24.9 percent in the January-February period, as compared with a year ago.
Retail sales rose 15.8 percent in the two-month period.