China's trade surplus fell 9.6 percent in the first seven months of 2008 compared with a year ago to 123.7 billion dollars, the official Xinhua news agency said Monday, citing the customs bureau.
Xinhua quoted unnamed analysts as saying the decline in the surplus was partly due to deliberate policies aimed at shrinking it, but added the rising prices of imported energy and resources also contributed to the decline.
The surplus for the month of July alone was 25.3 billion dollars, a decline of about 900 million dollars from the same month a year ago, according to Xinhua.
The surplus has been a source of bitter friction with major trading partners like the United States and the European Union.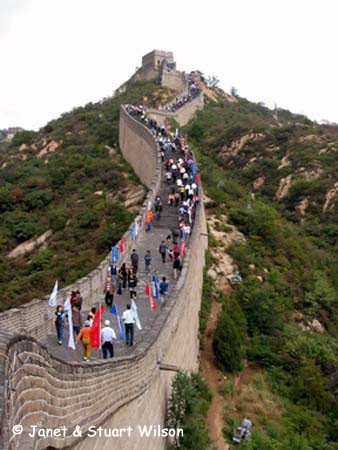 Great Wall of China, Beijing, China
However, in recent months China's exports have weakened noticeably, mainly because of the slowdown in the global economy, but also because of the gradual strengthening of the Chinese currency, the yuan.
As a result, Chinese policymakers have quietly adopted measures to help the nation's exporters.
Beginning this month, China improved tax incentives for exporters of some textile and apparel products, moving to support companies struggling amid weakening foreign demand.
Observers have also said a recent slowdown in the rate at which the yuan is strengthening against the US dollar may reflect an attempt to keep Chinese export prices competitive.