BEIJING, Aug 22, 2011 (AFP) - Eurozone countries should take "concrete actions" to restore confidence and overhaul their economic system, Chinese media said Monday, ahead of a visit by French President Nicolas Sarkozy.
The opinion piece carried by the overseas edition of the People's Daily, the mouthpiece for the ruling Communist Party, blamed a lack of supervision over the finances of eurozone members for causing the crippling debt crisis.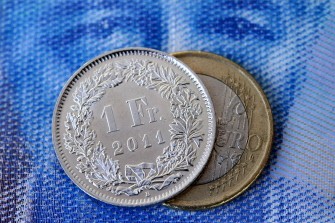 AFP - A "one Swiss franc" coin and a one-euro coin are seen on top of a 100 Swiss francs note bearing a picture of sculptor and painter Alberto Giacometti on this picture taken on August 17, 2010 in Lausanne, Switzerland
Sarkozy, who has taken a key role in trying to resolve the region's woes, will stop over in Beijing on Thursday for talks with his Chinese counterpart Hu Jintao on his way to New Caledonia, a French overseas territory.
"The eurozone should reform the institutions that hinder its economic development and handle ... its relations with the world economy and financial stability in a responsible manner," the opinion piece said.
"It needs to take concrete actions to restore market confidence in eurozone nations and the euro."
The article was jointly written by Zhang Zhixiang, a professor at the People's University of China and a former senior official with the central bank, and Zhang Chao, an economist with policy lender China Development Bank.
Chinese leaders have repeatedly expressed their confidence in the eurozone economies during the crisis, and the country has invested an increasing portion of its world-leading foreign exchange reserves in euro-denominated assets.
European countries are major buyers of Chinese exports and it is in Beijing's interest to ensure the value of the euro does not weaken.
"A drop in actual demand led by the European debt crisis will have a long-term impact on China's real economy," the opinion piece warned.
China's exports to the European Union hit $199.6 billion in the first seven months of this year, or 19 percent of the country's total overseas shipments recorded in the period, according to Chinese customs figures.