CIA chief Michael Hayden faces a tough grilling from US lawmakers Tuesday over the destruction of interrogation tapes amid charges that the agency was covering up possible torture.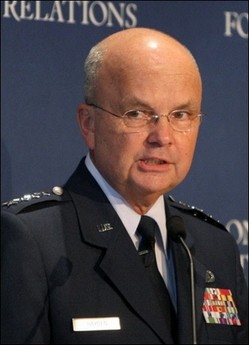 File picture shows CIA Director Michael Hayden at the Council on Foreign Relations in New York (Photo: AFP)
Hayden, who will testify to the Senate Intelligence Committee behind closed doors, revealed last week that tapes made in 2002 were destroyed in 2005 -- at a time Congress was investigating allegations of torture of terror suspects.

The tapes, made before Hayden became CIA chief, reportedly show harsh interrogation methods, including a simulated drowning technique called "waterboarding" that human rights groups, lawmakers and one former CIA official describe as torture.

Hayden has denied any use of torture and said the tapes, which served as an internal check on how interrogations were carried out, were destroyed to prevent any leak that could compromise the identity of CIA agents.

Since the tapes' destruction emerged, the White House has stopped short of denying any involvement in the affair, while the Justice Department and the CIA's internal watchdog have opened a preliminary inquiry.

The revelation raises difficult questions for President George W. Bush's administration, which has faced criticism over its treatment of terror suspects and now faces charges from Democrats and human rights groups that it tried to cover up past abuse.

The White House said Monday it would not answer questions about the tapes of terrorism suspects, citing ongoing investigations.

The Bush administration refuses to divulge what methods are allowed for interrogations of terror suspects but insists that the United States does not torture.

Republican Senator John McCain, a presidential candidate, said the tapes' destruction harmed America's credibility and moral standing abroad.

"There will be skepticism and cynicism all over the world about how we treat prisoners and whether we practice torture or not," McCain, who was abused as a prisoner of war in Vietnam, told Fox News Sunday.

Hayden said committees in Congress overseeing intelligence matters were informed of the interrogation videos "years ago" and of plans to dispose of them.

However, Congresswoman Jane Harman, who served on the House Intelligence Committee in 2002, told CNN on Monday that the committee was told of the tapes' existence but was kept in the dark about their destruction.

"We were told nothing. And I think we should have a shot at seeing whether, in the face of our investigation, we were denied information by the CIA," she said.

Harman said that she advised the CIA against destroying any tapes after she and her colleagues were briefed about their existence.

She also questioned Hayden's statement that "the decision to destroy the tapes was made within CIA itself."

"It doesn't sound adequate," said Harman. "I also don't think it's credible that lower-level people made decisions about this program. I think there were directions from higher-level people."

A retired CIA agent confirmed in an ABC News interview that one of the Al-Qaeda suspects in the videotapes, Abu Zubaydah, was subjected to waterboarding.

John Kiriakou, who led a CIA team that captured and interrogated Zubaydah, admitted that the disputed method was a form of torture but that it was necessary and prevented several terrorist attacks.

The method broke Zubaydah -- one of the first top Al-Qaeda suspects captured after the September 11, 2001 attacks -- in less than 35 seconds, Kiriakou told ABC.

"The next day, he told his interrogator that Allah had visited him in his cell during the night and told him to cooperate," Kiriakou said. "From that day on, he answered every question."