A major UN-sponsored climate change conference opened on Indonesia's Bali Monday, tasked with crafting a road map for negotiations leading to a new pact for addressing global warming.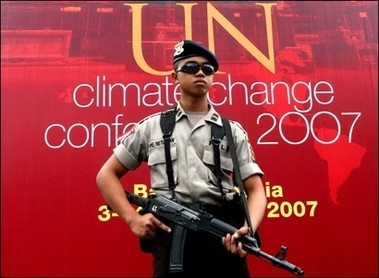 A policeman at the UN Climate Change Conference on Bali, a major UN-sponsored climate change conference (Photo: AFP)
The 11-day conference, held under the UN Framework Convention on Climate Change (UNFCCC) and attended by more than 180 nations, comes as evidence mounts of the havoc rising sea levels and extreme weather patterns are set to wreak on world ecosystems and humankind.

Under the new pact, industrialized countries will be pressed to massively reduce their emissions of greenhouse gases from the end of 2012, when the current phase of the Kyoto Protocol expires.

Indonesia's environment minister and the new president of the convention, Rachmat Witoelar, told the opening summit session that there was a building momentum for an agreement to be hammered out here.

"In my consultations, I've heard widespread support from governments on launching a process under the convention to conduct negotiations on the future climate regime, and for agreeing on an agenda for these negotiations," he said.

UNFCCC executive secretary Yvo de Boer warned that Bali and other idyllic places vulnerable to climate change were destined to become "lost paradises" unless drastic action was taken.

"Public expectations for Bali to provide answers are big. The eyes of the world are upon you. There is a huge responsibility for Bali to deliver," he said.

"Shaping the future may seem like an impossible task of squaring a circle of conflicting interests. But I firmly believe it can be done, if we can point the way on how we will turn four corners," he told the opening session.

De Boer said that even just working out the right order for discussions represented "a huge challenge" for the some 10,000 delegates meeting in Bali's upmarket tourism enclave of Nusa Dua.

The legal form of a resulting agreement could be thrashed out at the end of the process, he said.

"After all, a marriage contract is the culmination of a love affair, not the topic for discussion on the first date," he quipped.

The talks received an immediate boost as Australia's new prime minister Kevin Rudd said he had ratified the Kyoto Protocol as his first official act after being sworn in as the nation's leader following elections last month.

The move by Rudd, who will also travel to Bali, leaves the United States as the only advanced economy yet to ratify the protocol.

Ahead of the Bali meeting, the Nobel-winning Intergovernmental Panel on Climate Change (IPCC) warned that damage to the Earth's weather systems this century would doom poor countries to worse hunger, water stress and damage from violent storms.

Nearly a third of plant and animal species could be wiped out.

The conference is expected to see China, India and Brazil lobbied to crank up action against their surging pollution levels, while countries in the frontline of climate change will be clamoring for funds to help them cope.

As part of the conference, Indonesia has invited trade ministers to Bali on December 8-9 and finance ministers on December 10-11. The conference concludes with a December 12-14 meeting of environment ministers under the UNFCCC.

The UNFCC's de Boer has set a triple benchmark to judge Bali's success: a decision to launch negotiations, and agreement on agenda for those negotiations and an end-date for those negotiations.

Negotiations must ideally conclude in Copenhagen at the end of 2009, giving countries sufficient time to ratify the new treaty so that it dovetails with the end of commitments under Kyoto.