BEIJING, May 25, 2009 (AFP) - China on Monday confirmed two more cases of swine flu, bringing the total number of people diagnosed with A(H1N1) to 11.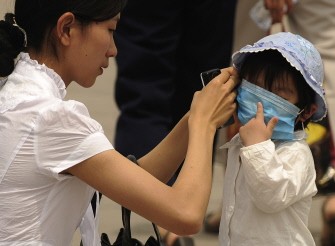 A mother puts a facemask on her daughter as they visit Tiananmen Square in Beijing on May 24, 2009 (AFP photo)
The cases reported by the Chinese health ministry, a 19-year-old man in Zhejiang province in the nation's east and a 30-year-old man in Shanghai, had previously been announced as suspected carriers of the virus.
China has yet to report a fatal case of swine flu.
More than 12,000 swine flu infections have been confirmed across 43 countries since the virus emerged in the Americas a month ago, according to World Health Organization statistics.