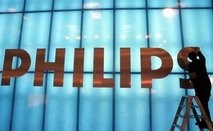 AFP file photo
THE HAGUE, July 19, 2010 (AFP) - Dutch electronics group Philips reported on Monday a net profit of 262 million euros for the second quarter of 2010, boosted by sales of consumer lifestyle electronics.
The figure was nearly six times the profit for a year earlier and sales rose by 12 percent to 6.19 billion dollars from the same period, the group said in a statement.
Sales grew in all sectors of the group's activities, especially in consumer lifestyle electronics which grew by 20 percent compared to the second quarter of 2009, while lighting sales grew by 13 percent, it said.
Sales to emerging markets grew 29 percent.