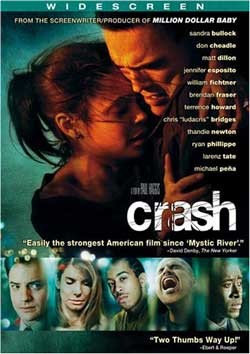 Poster of the film Crash
"Crash," the low-budget culture-clash drama which explores racial prejudices among a range of characters who are connected in often surprising ways, garnered six Oscar nominations and won three, for film editing, best original screenplay and best picture.
Lee, 51, has made a career of depicting the struggles of outsiders, and his latest film "Brokeback Mountain" , which explores the forbidden love between two cowboys, won him newfound respect after the critical failure of his blockbuster "Hulk."
Earlier US star Reese Witherspoon turned her role as the country-singer wife of music legend Johnny Cash into Oscars gold, winning the best actress Academy Award for "Walk the Line."
The 29-year-old has been one of Hollywood's highest-paid box office draws since her 2001 comedy "Legally Blonde," but it was her turn as June Carter Cash that won her recognition as a serious actress.
Another gold-winning actor with a long career, but little recognition, was "Capote's" Philip Seymour Hoffman who captured the best actor Oscar for his riveting portrayal of eccentric and conflicted writer Truman Capote.
Hoffman, 38, has enjoyed a long and solid career over the past 14 years but had not been a major household name until he won Oscar's attention for his turn as the tortured author in Bennett Miller's probing drama.
Rounding up the top awards was South Africa's "Tsotsi," the story of a gangster who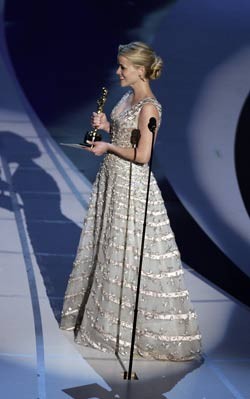 US actress Reese Witherspoon holds her Oscar for best actress in the film Walk The Line (AFP Photo)
gets a chance at redemption when he finds a baby in the backseat of a car he hijacked, which took the Oscar for best foreign-language film.
The movie, directed by Gavin Hood, is the first South African film ever to win an Oscar and marks the second time a film from the country has been nominated for an Academy Award.
US screen idol George Clooney and Britain's Rachel Weisz won the first major Oscars at the 78th-annual Academy Awards ceremony for their supporting roles in two politically super-charged movies.
Clooney won his first-ever Oscar for his gruelling role as an ageing CIA spy in "Syriana," a thriller about US oil machinations in the Middle East, while Weisz won for playing an activist battling pharmaceutical-industry human rights abuse in Africa in "The Constant Gardener."
Weisz, 34, praised her co-star Ralph Fiennes and novelist John LeCarre, who wrote the explosive story of immoral big business on which the film was based.
She said his "unflinching, angry story really paid tribute to the people who are willing to risk their own lives to fight injustice. They are greater men and women than I," the actress said.
The politically outspoken Clooney, 44, is the big star of this year's Oscars, coming to the ceremony armed with three nominations, as best supporting actor for "Syriana" and best director and original screenwriter for "Good Night, and Good Luck."
"Alright, so I'm not winning director," the heartthrob quipped. "This object will always be synonymous with your name: 'Oscar winner George Clooney,' 'Sexiest Man Alive 1997,' 'Batman,' dies today in a freak accident.'"
But he said his competitors for the best actor statuette -- "Brokeback Mountain's" Jake Gyllenhaal, "Cinderella Man's" Paul Giamatti, Matt Dillon of "Crash" and William Hurt of "A History of Violence" -- were more than worthy.
"Unless we all did the same role, ... I don't know how you compare it. They are all stellar performances and wonderful work, and I'm truly honoured to be up here," he said after accepting the award from Nicole Kidman.
Both Clooney and Weisz robbed this year's Oscars favourite "Brokeback Mountain," of the best supporting actor statuettes that Gyllenhaal and Michelle Williams had hoped to claim. But the film picked up its first statuette of the evening for best original score.
Other early awards went to British claymation guru Nick Park for "Wallace and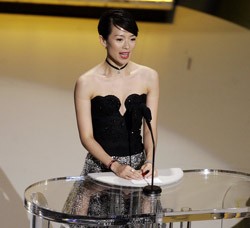 Chinese actress Zhang Ziyi presents the Oscar for best editing (AFP Photo)
Gromit in The Curse of the Were-Rabbit," which won best animated feature, and to the 200-million-dollar "King Kong," for best effects and sound mixing.
The six-times nominated story "Memoirs of a Geisha," set in Japan, won two statuettes for costume design and art direction, while "The Chronicles of Narnia: The Lion, the Witch and the Wardrobe" won the best make-up award.
Frenchman Luc Jacquet's film about the trials of Emperor penguins in the Antarctic, "The March of the Penguins" -- which became a surprise global mega-hit -- won the best documentary feature award.
Source: AFP