The parliamentary assembly of the post-Soviet Collective Security Treaty Organization (CSTO) intends to pass a statement at its April 3 sitting on Kosovo's independence, RIA-Novocti quoted the CSTO chairman on Sunday.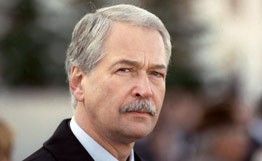 Boris Gryzlov-CSTO chairman
"We'll discuss the situation linked to the unilateral declaration of independence by Kosovo. At our plenary meeting, the CSTO parliamentarians intend to pass a corresponding statement reflecting their common position on this geo-political problem. The sitting will evaluate the threats that have been provoked by the Kosovo leaders' decision," Boris Gryzlov, who is also speaker of Russia's lower house of parliament, said.
Kosovo, with a 90% ethnic Albanian majority, declared unilateral independence from Serbia on February 17. The U.S. and the vast majority of EU states have since acknowledged its sovereignty. Russia, Serbia's traditional ally, has refused to recognize the "world's newest state" and has pledged to block any attempt by Kosovo to seek UN membership.
The Russia-led CSTO regional security bloc also comprises Armenia, Belarus, Kazakhstan, Kyrgyzstan, Tajikistan and Uzbekistan.