Cuban newspapers showed photographs Tuesday of Fidel Castro that were taken last week when the ailing leader met with Chile's president.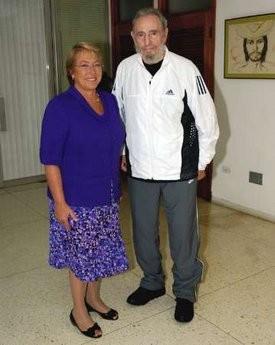 Chile's President Michelle Bachelet (L) and Cuba's former leader Fidel Castro pose for a photograph during a meeting in Havana in this picture taken February 13, 2009
The four photographs were published in Cuba's official newspapers four days after they were first released by the Chilean government.
They were the first of Castro to appear in the official press since June 2008, and followed reports in December that he might be near death.
In the photos, Castro, 82, is pictured alongside Chilean President Michelle Bachelet, standing in a black and grey Adidas track suit.
Although showing some signs of fatigue, Castro appeared to have put on a bit of the weight he lost after suffering a major health crisis two and one half years ago, and undergoing intestinal surgery.
He met with Bachelet for about 90 minutes on February 12. The Chilean government released the pictures of their meeting the following day.