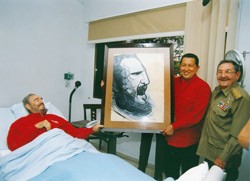 Cuban President Fidel Castro (L) and Venezuelan President Hugo Chavez (C) and Mr. Raul Castro (R) during a visit to the hospital where President Castro recovers from surgery, August 13, 2006 in Havana (AFP Photo)
Cuban President Fidel Castro is getting better and every precaution has been taken to prevent aggression on Cuba, Mr. Raul Castro said Friday in his first public statement since the Cuban leader was hospitalized.
He said President Fidel Castro, 80, was undergoing a "satisfactory and gradual recovery," from his intestinal operation last month, which on July 31 led to the temporary transfer of power to Raul, who is also defense minister.
He said his brother's "progressive recovery" was due to "his exceptional physical and mental nature."
Raul Castro then spent the rest of the interview explaining how Cuba had sought to bolster its defenses in view of what he said was "the openly interventionist nature of the Bush Plan," referring to US President George W. Bush.
Washington recently unveiled a second report from its Commission for Assistance to a Free Cuba, created in May 2004 and co-chaired by US Secretary of State Condoleezza Rice with the purpose of accelerating political change in Cuba.
The plan, approved by Bush, has a section kept secret for reasons of national security. That has sparked Cuban suspicions of likely aggression or even an attack on the regime.
"What other form exists for obtaining these goals that is not military aggression? Thus, the country adopted the pertinent measures for counteracting that real danger," said Mr.Raul Castro.
The day after he became temporary leader of Cuba, on August 1, Raul Castro said he implemented a defensive plan his brother had signed in January last year to counter any foreign interference.
"We have never ignored a threat from the enemy," he said.
"It would be irresponsible to do so when faced with a government like that of the United States, which is declaring with the greatest audacity that it does not accept what is established in the Cuban Constitution," he added.
He said Bush's comment last week that he "would take note of those who oppose" a political transition in Cuba, denoted a "boorish and, at the same time, stupid attitude..."
"I would advise them to do the opposite. To 'take note,' as they say, of the annexationists on the payroll of the US Interest Section here in Havana, those who are going to receive the crumbs of the announced 80 million dollars earmarked for subversion, because the bulk of it will be distributed in Miami, as is usually the case."
"At this juncture, they should be very clear that it is not possible to achieve anything in Cuba with impositions and threats. On the contrary, we have always been disposed to normalize relations on an equal plane," said Raul Castro.
"What we do not accept is the arrogant and interventionist policy frequently assumed by the current administration" of the United States.
Source: AFP