Ailing Cuban leader Fidel Castro, who has not been seen in public since summer 2006, suggested he might step down, RIA-Novosti quoted Spanish news agency EFE on Tuesday.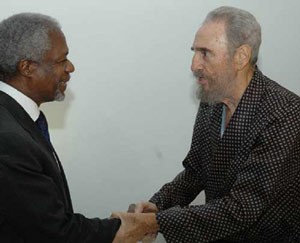 File photo shows Former UN Chief Kofi Annan meeting with Cuba's President Fidel Castro last year.
Debates as to whether the 81-year-old leader would resume the leadership have continued since Castro temporarily handed over power to his brother Raul in July 2006, after undergoing intestinal surgery.
"My main duty is not to cling to power, much less obstruct younger people, but to contribute my experience and ideas whose modest value descends from the exceptional epoch that I have lived through," Castro said in a letter read out on Cuban television.
Castro was nominated for National Assembly elections January 20 a prerequisite for the subsequent presidential appointment, a post which Castro has held for decades along with the positions of chairman of the Council of Ministers and first secretary of the ruling Communist Party.
But some experts say Castro, who seized power in a 1959 revolution, may decide not to resume office but opt instead for a governmental advisor post on important issues.