Outgoing Belgian Prime Minister Guy Verhofstadt has reached an agreement on forming an interim government, as the country lumbers through a protracted political crisis six months after an election, his spokesman said Tuesday.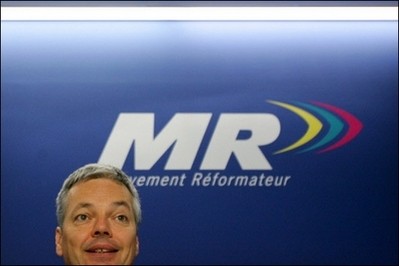 Belgium's Francophone liberal leader Didier Reynders, head of the biggest party in Wallonia, gives a press conference December 14 (Photo: AFP)
"The prime minister has unblocked the situation," Verhofstadt's spokesman Kurt Debeuf said in a statement.

Following additional talks the centrist francophone CDH party accepted Verhofstadt's proposals, clearing the way for it to join a government including Flemish Christian Democrats and Liberals, plus francophone Liberals and Socialists.

Belgian political parties have failed to agree on forming a coalition government since a June 10 general election, prompting King Albert II on Monday to ask Verhofstadt to form an interim government to handle urgent business.

If confirmed in office quickly, the interim cabinet could spare Belgium the inglorious fate of setting a new European record in early January for the longest period without a new government, topping the Netherlands' best of 208 days in 1977.

Under Belgium's federal system, the government is led by a coalition from the northern Dutch-speaking region of Flanders -- home to about 60 percent of the population -- and the poorer southern French-speaking region of Wallonia.

But the two main linguistic communities have been unable to overcome differences on "institutional reform" -- essentially the devolution of federal powers to the regions.

Verhofstadt was thrust back into the political limelight earlier this month after prime minister-designate Yves Leterme, whose party came out in front in the June elections, gave up his lengthy bid to form a four-party Christian-Democrat/Liberal coalition.

On Monday, Verhofstadt, who has been in power since 1999, stressed that the lifespan of the interim government would be "very limited," running until March 23, 2008.