Two Indian judges on Monday rejected the appeal of the sole surviving gunman from the 2008 Mumbai attacks against his conviction and death sentence.
The judges at the Bombay High Court dismissed the appeal by Pakistani national Mohammed Ajmal Amir Kasab over his role in the attacks that killed 166 and injured more than 300 people.
The court also threw out the state's appeal against a lower court's decision to acquit two Indian nationals who were accused of providing hand-drawn maps to the 10 Islamist gunmen.
Kasab has been held in solitary confinement since his arrest in a shoot-out with police just hours after the attacks began. He has not attended the appeal for security reasons but has been able to follow proceedings via video link.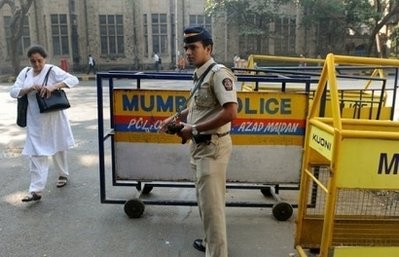 An Indian policeman mans a barricade outside the Bombay high court where the sole surviving 2008 Mumbai attack gunman, Mohammed Ajmal Amir Kasab, was having his appeal heard.
The 23-year-old looked at the floor as the judgement -- widely expected given the weight of fingerprint, DNA, eye-witness and CCTV evidence against him -- was handed down, news channel NDTV said.
A senior Indian Supreme Court lawyer, K.T.S. Tulsi, told the channel: "This was the worst tragedy after India's independence. Women and children were killed mercilessly. The attackers showed scant regard for human life.
"In such a case, a person so diabolical deserves no mercy."
Kasab was found guilty last May of a string of offences including waging war against India, murder, attempted murder and terrorist acts after a trial at a maximum security prison court in Mumbai.
The appeal, which began last October, saw Kasab's legal team ask for a retrial, arguing that his trial lawyer was not given sufficient time to wade through the 11,000-page charge sheet before the case began.
They also claimed that prosecution evidence and witnesses were manipulated.
Under Indian law, death sentence cases have to be referred to the local state high court. The judges can uphold the sentence, reduce it, order a retrial or overturn the conviction.
Kasab now has a further right of appeal to the Supreme Court in New Delhi and as a last resort to India's president for clemency.
There was no immediate response from his lawyers.
Kasab was found to have been one of the two gunmen responsible for the bloodiest episode in the three-day attacks, when 52 people were killed at Mumbai's main railway station on November 26, 2008.
Three luxury hotels, a popular tourist restaurant and a Jewish centre were also attacked.
India blames the banned, Pakistan-based Islamist group Lashkar-e-Taiba for masterminding the attacks, which led to the suspension of fragile peace talks between the two neighbours and rivals.
New Delhi and Islamabad only this month agreed to resume dialogue.
In the case of Kasab's co-accused Fahim Ansari and Sabauddin Ahmed, the original trial judge said the prosecution evidence against them was flimsy.
After the case, the men's defence teams said a Pakistani-American man, David Coleman Headley, conducted the reconnaissance. He was arrested in 2009 and has admitted to scouting out targets