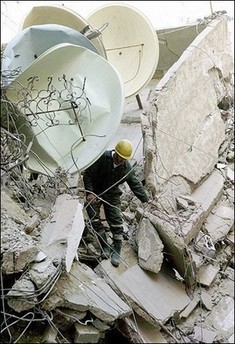 An Egyptian rescue worker sifts through the rubble of the collapsed block
The death toll from the collapse of a block of flats in the Egyptian port city of Alexandria has risen to 14, the official MENA news agency reported on Wednesday.
The toll could climb even further as around 15 people remain trapped in the rubble of the flattened 12-storey building, a security official told AFP on Tuesday.
The bodies of two people were pulled out on Tuesday night from the wreckage of the building in the Loran district of Alexandria, Egypt's second city with a population of about four million.
A lone survivor was rescued on Tuesday, 24 hours after the apartment block collapsed, one of the latest such disasters in Egypt.