SAN BRUNO, California, Sept 12, 2010 (AFP) - The death toll from a huge gas pipeline explosion that set fire to dozens of homes in this California town has risen to seven as the search goes on for people still missing in the disaster.
City police chief Neil Telford reported late Saturday that specially trained search dogs had found three more bodies raising the toll. Six more people remain missing, authorities added.
"Our hearts go out to the victims of this tragedy," Telford said. "This is devastating to so many families."
The massive blast and inferno ripped through a neighborhood in San Bruno near San Francisco Thursday evening, leaving residents shocked by the sudden devastation.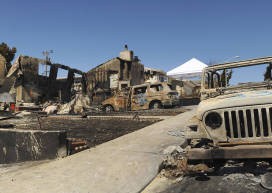 A scene near the explosion site
Huge flames blasted from the ground like a blow torch where the pipe was ruptured and fire spread relentlessly to houses in several directions.
Hundreds of people fled for their lives, many weeping, while others paused to capture the chaotic scene on cell phone cameras.
The blast also injured 52 people -- three with third degree burns -- and destroyed 37 homes leaving seven others severely damaged.
The blast-triggered fire consumed four hectares (10 acres) of property and was completely extinguished by Friday night.
Emergency workers said they had searched over 75 percent of the smoldering ruins.
But Lieutenant Governor Abel Maldonado -- standing in for California governor Arnold Schwarzenegger who is on a trade trip to Asia -- was more cautious, stressing that a quarter of the inferno site had yet to be checked.
US President Barack Obama on Saturday called Schwarzenegger "to express his condolences for the tragic loss of life in San Bruno and his concern for those still recovering from injuries," said White House spokesman Robert Gibbs in a statement.
Three of the fatalities have been identified so far. They include a mother and her 13-year-old daughter and a 20-year-old woman, the San Mateo forensic institute said.
Local utility Pacific Gas & Electric (PG&E) said a natural gas main ruptured in the town near San Francisco International Airport.
Several San Bruno residents said they had complained of gas smells over the past few weeks and some said they saw PG&E crews in the area who apparently did not take any measures.
PG&E President Chris Johns told a press conference Saturday that the company was "reviewing all the phone records... As of right now, we have not been able to confirm any calls... in that vicinity, happening in the first nine days of September."
Both PG&E and the National Transportation Safety Board were investigating the blast.
But US Senator Barbara Boxer of California said these investigations could take a year or more.
"I'm calling on all responsible parties, PG&E and all the regulators, federal and state, to outline a robust inspection system that begins right now," the senator stated.
NTSB Vice Chairman Christopher Hart said the broken pipe section is expected to be taken to a lab in Washington for further inspection.
That inspection would include studying whether fractures developed because of an impact, fatigue or other reasons, he said. Authorities are looking into the insulation of the pipeline, its pressure and what safeguards were in place.
The probe was expected to take up to 18 months.
Local authorities on Saturday still did not know when people evacuated from the blast area could return to their homes, as PG&E announced it would cover the cost of all emergency housing.
Up to 200 firefighters were dispatched to battle the blaze, but they were no match for the flames as the intense heat reportedly melted fire truck windows and car tail lights several dozen yards (meters) from the flames.
A helicopter and specially equipped airplanes dumped water and flame-smothering gel on burning homes.