ANTANANARIVO, Feb 8, 2009 (AFP) - Twenty-eight people were killed Saturday in protests violently put down by the security forces, the police in Madagascar said Sunday in a revised toll that put the number of injured past 200.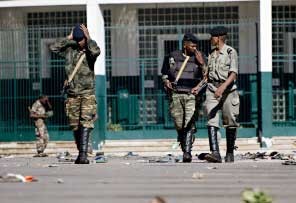 Security personnel guard the area around the office of the President Marc Ravalomanana in Antananarivo on Feb. 8 (Photo: AFP)
Presidential security forces opened fire at anti-government protestors who tried to march on President Marc Ravalomanana's office after a rally in the capital Antananarivo.
"In the city's three main hospitals, we counted 28 dead and 212 wounded," said Captain Lala Rakotonirina, spokesman of the national police force.
The previous toll, given late Saturday by the fire brigade, was 23 dead and 83 wounded.
University hospital official Eric Rambinison said 90 percent of the injured had sustained bullet wounds.
Sunday's toll brought to 96 the number of those killed in protests that erupted January 26 when the now-sacked Antannarivo mayor Andry Rajoelina called for anti-government demonstrations.