WASHINGTON, June 15, 2010 (AFP) - President Barack Obama staked out an image as a decisive leader barking out orders and impatient for results, as he declared war on the Gulf Oil spill in his big Oval Office address.
But the devilish momentum of America's worst environmental disaster may yet defy the crisp, ordered, best-laid plans Obama voiced in his 18-minute speech.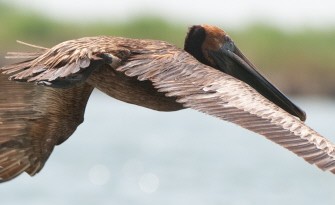 A brown pelican covered with oil from the BP Deepwater Horizon oil spill eludes capture as it flies away from Empire Jetty in the Gulf of Mexico, near Venice, Louisiana, June 15, 2010. AFP
Obama made his name firing off soaring hope-fueled speeches to crowds of adoring supporters intoxicated by his "Yes We Can" rhetoric.
Tuesday's appearance might be billed a "Yes, we still can" speech, but Obama appeared constrained by the dimensions of a television screen, defending a presidency grounded by political reality.
He snappily vowed to clean up the mess, make BP pay, fix cowboy regulation of oil industry giants and drag America into a clean energy future.
But his spare rhetoric barely disguised the fact he still cannot exert control over a gushing undersea well staining the Gulf of Mexico.
And Obama's call for a new "national mission" to develop green energy and his promise to rebuild the battered US Gulf Coast, were short on details, and skipped over political difficulties that may thwart those dreams.
Analysts however cautioned it was too early to judge how the address may affect political perceptions of the crisis countrywide.
"For somebody who has not followed this closely, I think they would see a very decisive leader, who has mastered the details of this and who has a plan to go forward," said Leila Brammer, professor of communication studies at Gustavus Adolphus College, Minnesota.
David Pumphrey, an energy industry specialist at the Center for Strategic and International Studies said the impact of Obama's appearance was unclear.
"Whether it mobilizes everybody's support to say, 'yes, everything is being done that should be done, I think we will have to wait and see."
The White House hoped Obama would use the speech to forge an "inflection point" in the crisis.
But Pumphrey noted the administration had hedged its bets, with oil still gushing into the Gulf defying efforts by BP, which leased the ill-fated Deepwater Horizon rig, to stop it.
"I think they have to be careful -- cautioning people that this thing is ongoing, this is not the end," he said.
Brammer said the speech was "vague" on details and it was too soon to judge whether it would help Obama at last dictate the narrative of the Gulf crisis.
At times during this crisis Obama has looked impotent, a perilous position for any US leader.
This speech was clearly meant to fix that. Obama used military imagery -- talking of a "battle plan" to beat a spill "assaulting our shores and our citizens," as he sought to show he was in control.
His speech was upbeat and decisive, its presentation engaged and energetic, as Obama wagged a finger in emphasis and spoke with passion.
BP will again play the foil to Obama's next effort to show he is command on Wednesday, as senior executives come to the White House for a meeting likely to be spun as a dressing down from an engaged, activist president.
While Obama said America must break its addiction to oil, he offered no new roadmap on how to unblock a logjam in the Senate over a massive energy and climate bill.
His Republican opponents seemed to sense weakness, again slamming Obama for backing a "cap and trade energy tax."
Obama's task seems even more difficult, as the trump card he had planned to woo a few Republican votes -- expanding access to offshore drilling -- has now been snatched away.
Republican Senator John Cornyn broadened his party's attack, hitting out at the president's leadership style.
"It's puzzling it took President Obama so long to address a waiting nation regarding a tragedy that he has compared to September 11th."
And residents of the Gulf Coast still suffering the after affects of Hurricane Katrina five years on, may be forgiven for adopting a wait and see attitude following another government promise to rebuild their region.
One inflection point the administration surely hoped to make was political: as the crisis is detracting from Obama's ambitious domestic reform plans.
Time seeping away is particularly important as the president's Democratic Party fears November's mid-term elections could trim or even snatch away their congressional majorities and stall Obama's agenda.
The disaster is suffocating the White House efforts to focus on jobs and also hitting foreign policy.
Obama should have been in Indonesia Tuesday, pressing home his effort to repair US ties with the Muslim world.