Defeated ex-premier Khaleda Zia dismissed the result of Bangladesh's general election as unacceptable Wednesday, saying the poll won by a landslide by her bitterest rival had been stage-managed.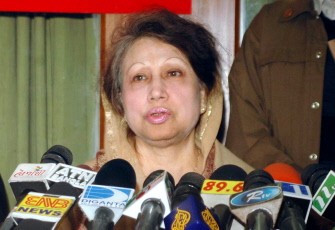 Bangladesh National Party (BNP) president Khaleda Zia talks to journalists in Dhaka on December 30, 2008. (AFP Photo)
In a brief address on national television just after midnight, Zia said her party had evidence of rampant vote-rigging and that the high figures given by the Election Commission for voter turnout were false.
Her rejection threatens to throw the impoverished south Asian nation into fresh political uncertainty after two years of rule by an interim army-backed government.
"I thank the chief election commissioner for implementing a stage-managed election. This election is not acceptable to the BNP," Zia said, referring to her Bangladesh Nationalist Party.
"It also won't be acceptable to the people," she warned.
The BNP won just 27 of the possible 300 seats in Monday's election and its main ally, the Islamist party Jamaat-e-Islami which held 17 seats in the last elected government, picked up just two.
The Awami League of Sheikh Hasina Wajed -- another former prime minister -- won 231 seats.
Official results of two seats have not been released, while another will be contested next month after the death of a candidate.
The private online newspaper bdnews24.com said that Zia and her party were now considering what legal steps to take.
Zia's BNP had won the last election in 2001 by a huge margin, but Election Commission spokesman S.M. Asaduzzaman said Sheikh Hasina had won convincingly this time.
"She has a clear majority to govern without any other party," he told AFP.
The election attracted a record turnout of 85 percent, the commission said, a figure which reached 90 percent in rural areas.
Election Commissioner Shakhawat Hossain told AFP that although no date had been set, the new government was likely to be sworn in early next month.