SINGAPORE (AFP) – Japan's massive earthquake and tsunami could cost its economy up to $235 billion, or 4.0 percent of output, and reconstruction could take five years, the World Bank warned Monday.
"If history is any guide, real GDP growth will be negatively affected through mid-2011," the Bank said in its latest East Asia and Pacific Economic Update report.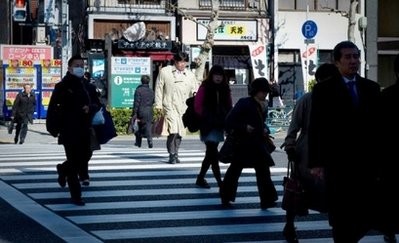 AFP file - The deadly earthquake and tsunami that hit northern Japan on March 11 could cost its economy up to $235 billion, equivalent to 4.0 percent of output, the World Bank said.
But growth should pick up in subsequent quarters "as reconstruction efforts, which could last five years, accelerate", it added.
The lower end of the damage estimates, based on projections by the Japanese government and the private sector as of March 17, was equivalent to 2.5 percent of gross domestic product (GDP), or $122 billion.
Ratings agency Moody's in a special report said downside risks had increased over the past week for Japan's economy, sovereign credit, banking, insurance, and non-financial corporate sectors.
World Bank chief regional economist Vikram Nehru said a nuclear crisis arising from a power plant crippled by the disasters has complicated the situation and its impact will depend on how long it takes to solve the problem.
Nehru said the Japanese yen, which shot to post-war highs against the US dollar after the disasters, was expected to normalise after Japan and its fellow G7 rich nations vowed action to stem the currency's rise.
"We're not terribly worried about that," Nehru told reporters in Singapore. "The expectation is that this strengthening of the yen was relatively temporary."
Japanese financial markets were closed Monday.
The dollar, which had immediately strengthened after the G7 move, was trading firmer at 80.928 yen in afternoon Asian trade Monday, up from 80.59 in New York late Friday.
Japan's GDP grew 3.9 percent in 2010, when it was overtaken by China as the world's second-biggest economy after being mired in a malaise since a property bubble burst in the early 1990s.
Nehru said the Japan disasters would affect the rest of Asia but it was too early to give estimates of the cost to the region.
"In the immediate future, the biggest impact will be in terms of trade and finance," he said on the sidelines of a regional conference.
The World Bank noted that after the 1995 Kobe earthquake, Japan's trade slowed only for a few quarters, with imports recovering fully within a year and exports rebounding to 85 percent of pre-quake levels in the same period.
"But this time around, disruption to production networks, especially in automotive and electronics industries, could continue to pose problems (beyond one year)," the report added.
The World Bank noted that developing East Asia's trade with Japan accounted for about 9.0 percent of the region's total external trade in the past five years.
It estimated exports from the region could slow by 0.75-1.5 percent if Japan's GDP shrank 0.25-0.5 percent.
The auto and electronics industries are already feeling the impact from the country's deadliest natural disaster since 1923, with production at major companies including Toyota and Sony disrupted.
In the electronics sector, prices of memory chips -- Japan supplies up to 36 percent globally -- have shot up by more than 20 percent in some segments, the World Bank said.
Reconstruction efforts may also affect East Asian countries holding yen-denominated liabilities, according to the report.
"A one percent appreciation in the Japanese yen translates into a $250 million increase in annual debt servicing on yen-denominated liabilities," the Bank said.
One-quarter of the region's developing economies have long-term debt denominated in yen -- ranging from eight percent in China to roughly 60 percent in Thailand, said the World Bank.
Reinsurance giant Swiss Re estimated Monday that the earthquake and tsunami had cost it $1.2 billion (847 million euros), but said this figure could be revised upwards.
US billionnaire investor Warren Buffett, however, said the disasters would not hamper the Japanese economy and could prompt new stock buying.
"I'm not looking at Japan's economic future differently from 10 days ago... extraordinary events offer (a) buying opportunity," he told reporters during a visit to South Korea.