TOKYO, Aug 15, 2011 (AFP) - Japan will recover from the March 11 quake and tsunami just as it did after World War II, Prime Minister Naoto Kan said Monday, the 66th anniversary of the country's surrender.
"Our country rose from the ruins after the war thanks to each citizen's effort and has overcome many difficulties until today," Kan said at a memorial service in Tokyo marking the day emperor Hirohito declared defeat, ending the war.
"Given these experiences, we will certainly and strongly reconstruct the disaster areas and Japan."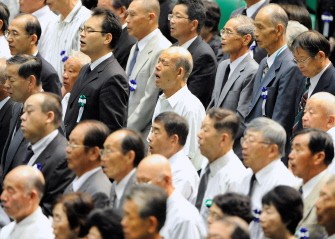 AFP - People sing Japan's national anthem during a memorial service for the victims of World War II in Tokyo on August 15, 2011
The anniversary comes as Japan struggles to recover from the quake and tsunami which ravaged its northeast coast and sparked a crisis at its Fukushima nuclear plant, the world's worst atomic accident since Chernobyl 25 years ago.
Emperor Akihito, the son of the late Hirohito, attended the service at the Budokan indoor arena with Empress Michiko, and addressed the audience of more than 6,000 guests.
"I remember the history and ardently pray that the tragedy of war will never be repeated," the 77-year-old emperor said.
"Together with all the people, I express my heartfelt sorrow for those lost in the war and pray for world peace and the country's continued prosperity."
Kan and his cabinet ministers stayed away from the controversial Yasukuni war shrine in Tokyo -- seen by other Asian countries as a symbol of Japan's past imperialist aggression.
The centre-left leader, whose party took power in September 2009, also refrained from visiting the shrine last year.
Previous pilgrimages to Yasukuni by conservative premiers provoked outrage in China and on the Korean peninsula, where memories of Japan's wartime atrocities linger.
On Monday, more than 50 politicians from the conservative opposition -- including former prime minister Shinzo Abe and current opposition leader Sadakazu Tanigaki -- visited the religious site, wearing morning dress.
Kan instead went to a Tokyo cemetery for the war dead and placed a bouquet of flowers at a memorial.