Nearly half a million children displaced by heavy flooding in the southern Philippines could face an outbreak of diarrhoea and pneumonia, the UN said Sunday.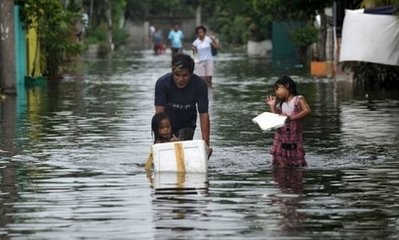 People walk through flood waters caused by a passing typhoon in Malabon, Metro Manila on June 21, 2011.
Vanessa Tobin, country representative of the United Nations Children's Fund (UNICEF), said about 450,000 children were among the tens of thousands affected when floods swamped over two dozen towns on Mindanao island the past two weeks.
The floods were caused by the overflowing of the Rio Grande, the country's second-longest river, after water hyacinths clogged a huge section of the system and prevented it from emptying into the sea.
Authorities had said that some low lying communities remained flooded, and Tobin said this raised concerns over the possibility of children contracting diseases such as diarrhoea and pneumonia.
"We are working to prevent death and illnesses with government and partner agencies," she said.
Hundreds of troops have been helping to clear the Rio Grande of the plants, which had covered up to 25 hectares (62 acres) of water.
President Benigno Aquino personally inspected the clearing operation last week, and ordered a massive relief effort.
Thousands of people remained in evacuation centres on the main island of Luzon, disaster relief officials said Sunday, after Tropical Storm Meari dumped heavy rains that caused flash floods in Manila and surrounding provinces.
Meari left one person dead, and rescuers were still looking for 17 people who went missing, including a group of fishermen who set sail despite the bad weather.