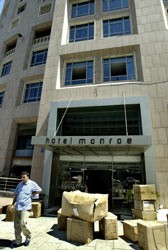 Most of Lebanon's hotels which were 100 percent occupied have closed since the war started on July 12 and there is no sign of when they will reopen (AFP Photo)
Nearly two weeks since a ceasefire went into effect in Lebanon ending the month-long war between Israel and Hezbollah, businesses in the capital's downtown district face a struggle to survive.
"You want to talk about business? What business?" asked Michael Aoun as he surveyed the empty tables at Karamna Restaurant, where lunch and dinner customers typically need to reserve two weeks in advance during the busy summer season.
Like most other restaurants and merchants in the city center, Karamna was forced to shut down after Israel launched its offensive on July 12 to crush the Shiite militant group Hezbollah and it reopened only a week ago.
"This war was devastating for us," said Aoun, Karamna's accountant. "Last year during July and August the restaurant made 500,000 dollars. This year, we had to shut down for 33 days because of the war and since we reopened August 15 we've only made 1,000 dollars."
At the nearby Virgin Megastore, which sells music, books and electronics and is a trendy meeting place for Beirut's young crowd as well as its tourists, the mood was also morose.
"We have lost at least 1.7 million dollars since the start of the war," said Pascale Khoury, the store's marketing and public relations manager. "All of our employees will be paid 20 percent less in August and we intend to lay off many of our part-timers."
According to the president of Beirut's Chamber of Commerce, Lebanon's tourism and related sectors stand to lose about two billion dollars in revenue because of the war.
"We were expecting 1.7 million tourists this summer and there is little chance now that they will return to Lebanon in the near future," Ghazi Koreitem told AFP.
Many of those who converge on the city center's shopping district during the summer are well-heeled residents from oil-rich Gulf countries, but the war has driven them away this year and much of the area now looks like a ghost town.
Several clothing stores are shut down and sullen-looking waiters stand idly at the many restaurants, cafes and ice cream parlours that line the pedestrian streets.
At Pointure, an upscale shoe store where footwear costs between 100 to 1,000 dollars per pair, the manager put stock on sale but said it has not helped boost revenue.
"We're down 90 percent," said Elie Aoun, who is not related to the accountant at Karamna. "Even with 50 percent off people are not buying.
"I used to make 10,000 to 14,000 dollars a day and now I'm lucky if I can make 500 to 1,000 dollars."
Aoun said if business fails to pick up the store will have to shut down in the coming months as the owner cannot afford to keep paying the monthly rent of 10,000 dollars.
Eliane Saba, one of the rare customers to venture into the store Thursday, said few people had their mind set on shopping in the aftermath of the devastating war.
"I'm just looking but my heart is not in it," she said. "Before I could spend about 150 dollars on a pair of shoes but now it doesn't mean anything to me.
"We're all utterly disgusted by this war."

Source: AFP