Democratic People's Republic of Korea (DPRK) is holding up progress on ending its nuclear drive by refusing to accept a proposed verification accord, US and Republic of Korea's envoys said as disarmament talks remained deadlocked Thursday.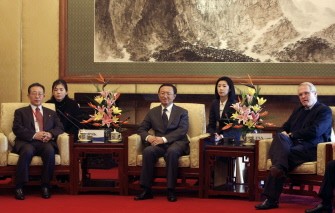 DPRK envoy to six-party Talks Kim Kye Gwan, Chinese Foreign Minister Yang Jiechi and US envoy Christopher Hillin take part in a meeting in Beijing on December 11, 2008.(AFP Photo)
Negotiators from six nations seeking to end the impasse over the communist state's programme reported no progress as they entered their likely final day of talks in Beijing.
The key stumbling block is the North's refusal to agree on a document that spells out how to check the truth of its claims about its nuclear activities, the US and RoK's delegates said.
"Obviously we would like to see progress made on this verification protocol, and so far we haven't seen it," US chief envoy Christopher Hill told reporters Thursday.
This round of talks is likely to be the last before US President George W. Bush's administration hands over one of its thorniest diplomatic problems to president-elect Barack Obama's team next month.
Host nation China this week handed out a draft verification protocol, and discussions since then have centred on amending it in a way that can satisfy all six nations involved in the talks, which began Monday.
But RoK's chief delegate Kim Sook said late Wednesday it would not be easy for China to work out a revised draft.
"Other participants mostly have a consensus on the verification protocol, but DPRK insisted on not agreeing to it," Kim said.
Hill, Washington's point man on the nuclear dispute, also laid the blame on DPRK.
"The North Koreans don't want to put into writing what they are willing to put into words," he said.
"We can't go forward on a verification protocol without something written down. We've laid out our views on the verification protocol."
He said the US position had been "pretty clear for weeks, even months. So it's not for us to be bargaining with ourselves. It's up to the North Koreans to do what they said they would do."
The six-nation talks -- grouping the United States, the two Koreas, China, Russia and Japan -- reached apparent agreement on a verification procedure in October last year, in what many hoped would lead to substantial progress.
The United States said then that it would drop the North from a terrorism blacklist, while Pyongyang reversed plans to restart its plutonium-producing Yongbyon nuclear complex.
Earlier in 2007, the nations appeared to make an even bigger breakthrough when Pyongyang agreed to disable its Yongbyon facilities and reveal its atomic activities.
That deal also called for the delivery of one million tonnes of fuel oil or energy aid of equivalent value to the North.
However the negotiations, which began in 2003, have been mired in countless setbacks, and did not prevent Pyongyang from testing its first atomic bomb in 2006.
RoK envoy Kim told reporters earlier Thursday he had come to "say goodbye", indicating this latest round would end with virtually no progress.
"The six chief delegates are scheduled to pay a courtesy call to Chinese Foreign Minister Yang Jiechi at 10 am (0200 GMT)," he said. "Afterwards, they are expected to meet and discuss how to wrap up the talks."
In a related issue, North Korea on Wednesday claimed the United States had recognised it as a nuclear weapons state, after a US defence report described it as such.
Hill, however, denied this Thursday: "Neither we, nor any other civilised countries, accept North Korea as a nuclear power."