THE HAGUE, June 6, 2011 (AFP) - Dutch authorities Monday said they were analysing samples of sprouting seeds here following a deadly bacterial outbreak in neighbouring Germany that has now killed 23 and seen millions of euros lost.
Food and consumer safety authority spokeswoman, Marian Bartelink, however stressed: "There is absolutely no indication at the moment that the bacterium is present in the Netherlands."
"This is a simple precaution, we have taken samples for analysis," she told AFP.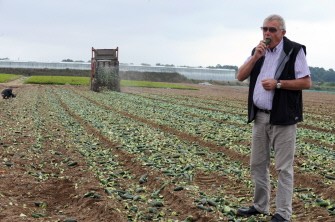 AFP - A French vegetable farmer eats a cucumber as a tractor spreads destroyed cucumbers to fertilize a field, on June 06, 2011 in Carquefou, western France.
Meanwhile, Productschap Tuinbouw (PT), an interest group representing Dutch commercial vegetable farmers, said it estimated losses of around 70 million euros (102,000 US dollars) per week by vegetable producers and wholesalers as a result of the outbreak.
"Consumption is dropping, exports are dropping, the demand for it is in free fall because of this climate of suspicion around fresh vegetables," PT spokeswoman Saskia Zeilstra told AFP.
Germany on Monday probed locally grown sprouts as the likely source for the killer enterohaemorrhagic E. coli (EHEC) strain which has claimed 22 victims in the country and one woman in Sweden, who had returned from Germany.
Initial tests proved negative, but the country said it would maintain a consumer warning for sprouts as well as tomatoes, lettuce and cucumbers.
Dutch cucumber, tomato and paprika growers have seen a massive drop in exports to Germany after the sudden outbreak of EHEC, which can result in full-blown haemolytic uraemic syndrome (HUS), a disease that causes bloody diarrhoea, serious liver damage and possible death.
Six people in the Netherlands have been confirmed as suffering from EHEC -- four of them also have HUS. The patients had all recently been to Germany.
A group of Dutch experts comprising doctors and scientists were to meet later Monday to discuss measures should an EHEC epidemic hit the Netherlands, Dutch Institute for Public Health spokesman Toon van Wijk said.
The European Commission announced its intention Monday to offer financial "compensation" to help vegetable and fruit producers affected.
Details are to be discussed Tuesday in Luxemburg at an extraordinary meeting of EU agricultural ministers.
In the Netherlands, Agriculture State Secretary Hans Bleker announced a government surety Monday for some 80 vegetable growers to help them pay back loans.