EADS, the European aerospace giant, has found the US partners it needs for its bid for a major US Air Force tanker contract, chief executive Louis Gallois said Wednesday.
"We have the complete team of partners we needed for sensitive equipment but we don't give the names because we don't want to put them under pressure," he told reporters in London.
EADS had previously held talks with US companies Raytheon and L-3 and the US arm of British firm BAE Systems.
Gallois remained confident that EADS had a bid that could beat US rivals Boeing to the 35-billion-dollar (29-billion-euro) deal to supply the US Air Force with 179 aerial refuelling tankers.
He insisted EADS' design -- a militarised version of the A330 aircraft made by Airbus -- was the "best airplane".
"We see the nervousness of Boeing attacking us every day in the press. If we have no chance, why would they attack us?" he asked.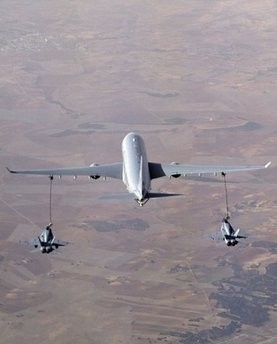 The European aerospace giant EADS has found the US partners it needs for its bid for a major US Air Force tanker contract, according to the company's chief executive Louis Gallois.
The two firms' long-running contest for the contract has been plagued by scandal, intense lobbying in the US Congress and transatlantic tensions.
EADS and its former US partner, Northrop Grumman, originally won the contract in February 2008, but the deal was cancelled after Boeing successfully appealed the decision to Congress.
In 2003, the Pentagon awarded a contract to Boeing but later suspended the deal after an ethics scandal.
Gallois also expressed confidence that "we will find solutions" to the crisis in the eurozone, saying that in Europe, "it's when we are near the cliff that we take decisions".
He was more concerned about the austerity measures introduced by EU governments facing huge deficits following the financial crisis, and the possible effect they might have on military spending.