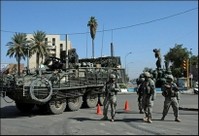 US soldiers man a checkpoint beside a Stryker armored personnel carrier in central Baghdad (AFP Photo)
An eerie calm has descended on Baghdad during the weekly day of prayers after a Ramadan of unprecedented bloodshed in Iraq, while US troops scoured the city for a missing soldier.
Reports of violence in the war torn capital dropped in the three days since the end of the Islamic holy month, in part because thousands of US troops are deployed in the city hunting a comrade who was kidnapped by masked gunmen.
Police found the bodies of 11 murder victims on Thursday and overnight, a US military spokeswoman said Friday, a toll considered low by the standards of Baghdad's vicious dirty war between rival Sunni and Shiite death squads.
On Friday, US troops were still manning cordons around the Karrada district, where the soldier was kidnapped on Monday, and on the approaches to Sadr City, the Shiite militia bastion where they fear he is being held.
Meanwhile, with US casualties for the month so far running at their highest level in a year and 24 Iraqi police killed in an insurgent ambush on Thursday, the Al-Qaeda militant group issued a triumphant statement.
"We call on all mujahideen... to support the young Islamic state in Iraq. Weakness has gripped the infidel nations. The first signs of victory can be seen on the horizon," the group said in an Internet statement.
The message, which could not be independently authenticated, was issued in the name of the self-proclaimed Islamic Emirate of Iraq, which was declared on October 15 by al Qaeda-led coalition of Sunni insurgent groups.
It coincided with fierce fighting between Al-Qaeda and US forces in the western Iraqi city of Ramadi, in the heartland of the Sunni rebellion, where at least five American sailors and marines were killed on Wednesday.
Last month's declaration of the emirate was marked by a brief show of force by insurgents, who were filmed by televisions crews driving cars full of armed militants through central Ramadi bearing Al-Qaeda banners.
The US-led coalition has denied losing control of the situation, but on Thursday military spokesman General William Caldwell said the marines based in Ramadi were engaged in a tough operation to "take back" the city.
"Casualties for the month of October have hit 96 dead, already the highest level since the same month last year, and the bloodshed has increased the pressure on both the White House and Iraq's beleaguered coalition government.
US President George W. Bush and Iraq's Prime Minister Nuri al-Maliki came out fighting this week, both vowing victory and promising to press forward with a joint political and military strategy to end the violence.
But cracks have also appeared in the alliance, with the embattled prime minister refusing to accept any US-imposed timetable for disarming Shiite militias and bitterly criticising a US-led raid into Sadr City.