Egyptian protesters were massing Friday for sweeping "departure day" demonstrations to force President Hosni Mubarak to quit after he said he would like to step down but fears ensuing chaos.
Thousands who had bunkered down for the night in Cairo's Tahrir Square, focal point of an unprecedented uprising against Mubarak now in its 11th day, were joined from early morning by protesters who began streaming in from across the city, correspondents said.
Opposition leaders have designated Friday as "departure day" for Mubarak and have called for gigantic demonstrations across the nation after the weekly Muslim prayers.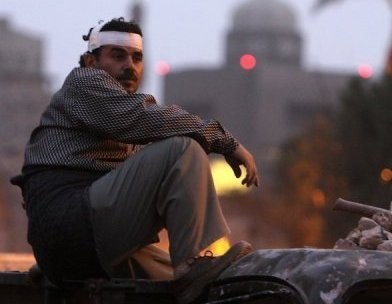 An injured anti-government protester takes a break sat on a wrecked truck used as a barricade in Cairo's Tahrir square where thousands are calling for the ouster of embattled President Hosni Mubarak.
On Tuesday, more than one million people poured onto streets across Egypt demanding the 82-year-old veteran president step down.
Organisers are hoping for even larger numbers on Friday, despite the potential for violence from Mubarak supporters who have been staging counter demonstrations in Cairo that have led to bloody clashes in which at least eight people have been killed and more than 800 hurt.
Prime Minister Ahmed Shafiq told his interior minister to allow peaceful protests to take place without interference, the official MENA news agency said.
The army has taken little action while the fighting has raged and police have been nowhere near Tahrir Square since on Friday last week they tried to end the demonstrations with tear gas, rubber bullets and water cannons.
The US military's top officer said in Washington Egyptian army leaders have "reassured" him their forces will not fire on protesters.
Admiral Mike Mullen said in a television interview late Thursday that he was working to keep communication channels open with the Egyptian military, a pivotal player in the crisis.
"I mean in the discussions I've had with their military leadership, they've reassured me that they have no intent to fire on their own people," Mullen told the "Daily Show with Jon Stewart."
Mubarak, who has ruled for three decades, said on Thursday he would like to step down but feared the likely ensuing chaos.
The veteran leader was "fed-up with being president and would like to leave office now, but cannot, he says, for fear that the country would sink into chaos," ABC television's Christiane Amanpour, he said reported after an interview in Cairo.
Mubarak spoke as deadly clashes between his opponents and supporters raged for a second day and after his vice president urged protesters to go home, also criticising their demands for the president's ouster as a "call for chaos."
On Tuesday night, Mubarak -- who has ruled for three decades -- had announced he would not stand for election to a sixth term in September, but would finish his mandate to guarantee an orderly transition.
"I don't care what people say about me. Right now I care about my country, I care about Egypt," he said on Thursday. "I was very unhappy about yesterday. I do not want to see Egyptians fighting each other."
Amanpour said in her account of the interview: "He told me that he is troubled by the violence we have seen in Tahrir Square over the last few days but that his government is not responsible for it.
"Instead, he blamed the Muslim Brotherhood, a banned political party here in Egypt," she said.
The United States meanwhile urged the Mubarak government to take immediate steps towards a political transition.
"Vice President Biden urged that credible, inclusive negotiations begin immediately in order for Egypt to transition to a democratic government that addresses the aspirations of the Egyptian people," a White House statement said.
US Secretary of State Hillary Clinton called on the government and opposition to start talks "immediately" on the handover of power, something that the latter are so far refusing.
US President Barack Obama had called for the transition to begin immediately after Mubarak announced late on Tuesday he would not seek re-election in September.
But the Egyptian foreign ministry rejected his call and similar ones from other world leaders, saying they "sought to inflame the internal situation."
On Thursday night, Vice President Omar Suleiman, addressing protesters hunkered down in Cairo's Tahrir Square, said: "End your sit-in. Your demands have been answered."
Shortly afterwards, relatives said seven leaders of the youth protest had been arrested after meeting leading dissident Mohamed ElBaradei at a cafe outside Cairo.
Suleiman, the former head of the intelligence services, suggested that attacks on protesters that have killed at least eight people and injured hundreds could have resulted from a plot.
"We will look into (the violence), into the fact it was a conspiracy," he said, adding that it could have been instigated by some "with foreign agendas, the Muslim Brotherhood, certain parties or businessmen."
Suleiman in a later interview with ABC News denied that pro-government elements killed the protesters, insisting: "They behaved very well."
Asked about shooting into the crowds of protesters, Suleiman replied, in English: "No. Nobody being killed by rifles or by snipers. No way."
The vice president had said on Egypt's state television that the Muslim Brotherhood had been invited to join talks between the government and opposition aimed at ending the protests.
That offer was rejected, as was an earlier one by Prime Minister Shafiq to go to Tahrir Square and talk to the protesters.
Amid the political manoeuvring, pro- and anti-government forces battled for control of the square which has been the epicentre of protests that erupted on January 25.
The health ministry said eight people were killed and at least 836 hurt in the latest fighting.
Ahead of Clinton's call for negotiations, virtually no one in the opposition was willing to talk.
Amr Salah, a representative of those organising the Tahrir demonstrations, told AFP they "will not accept any dialogue with the regime until our principal demand is met, and that is for President Hosni Mubarak to step down."
Spokesman Mohammed Mursi said "the Muslim Brotherhood categorically rejects any dialogue with the regime without any hesitation."
And the National Association for Change rejected any talks with the regime before Mubarak goes, spokesman Mohammed Abul Ghar told AFP.
The association includes former UN atomic energy watchdog chief and Nobel peace laureate ElBaradei, Muslim Brotherhood members, the Kefaya (Change) movement and other political parties.
Several foreign journalists have been the target of violent attacks, a media watchdog and news organisations said, apparently on charges of fuelling the uprising with their coverage.
According to UN estimates, more than 300 people have died since the unrest broke out on January 25, with close to 4,000 injured.