CAIRO, Feb 12, 2011 (AFP) - Egyptian government-owned newspapers, which had ardently supported president Hosni Mubarak throughout his 30-year rule, on Saturday paid tribute to the "revolution of the youth" that overthrew him.
"The people brought down the regime," and "the youth of Egypt forced Mubarak to leave," the heavyweight Al-Ahram newspaper headlined its front page.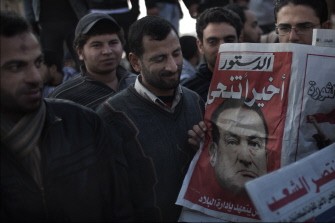 Egyptians read a newspaper featuring a frontpage story on president Hosni Mubarak's resignation. AFP
Inside, the newspaper also saluted the social networking site Facebook, which was used by young activists to help organise the protests that ended Mubarak's reign.
"The Facebook revolution toppled Mubarak and the symbols of the regime," the newspaper said, describing the social networking site as the "command council headquarters of the revolution."
In recent days, state media had begun to show the first signs of sympathy towards the demands of the protesters, a major turnaround for newspapers that in the past had competed to outdo each other in praising Mubarak.
"After the January 25 revolution, there's no going back," Al-Ahram wrote, though it cautioned that "some people are trying to harvest the fruits of the revolution before they have ripened."
The warning appeared to allude to Egyptian Nobel winner Mohamed ElBaradei and Arab League Secretary General Amr Mussa, who have both expressed interest in running for office in the future.
Al-Ahram supplemented its coverage with a special insert dedicated to the "youth of Tahrir (Liberation)" under the headline "We defeated him."
"After just 18 days of popular anger, everything has changed in the lives of Egyptians," it added.
Al-Gomhouria, another government-owned newspaper, said: "Mubarak's popularity, which was based... on the defence of the poor and the citizens, weakened and collapsed.
"The future president must be transparent. It is our right to know their wealth before and after they take power," the paper said, amid reports that Mubarak and his family have amassed huge fortunes.
State television meanwhile carried a message directed at the Egyptian people "congratulating them on their great revolution," and saluted the army for their "important role in protecting the revolution, the nation and the people."