A collision between two trains killed 80 people and injured 131 on Monday in a Nile Delta town north of Cairo, a security source said, in Egypt's worst rail disaster since 2002.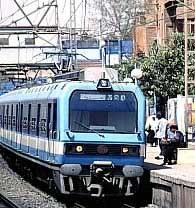 Train in Egypt
About 25 ambulances rushed to the crash site, along with hundreds of bystanders and relatives anxious for news of passengers who might have been killed or injured, a witness said, adding that damage to the trains was extensive.
The accident took place at about 7.30 a.m. near the town of Qalyoub, about 20 km (12 miles) north of Cairo, official sources told the state news agency MENA. They said one of the drivers had apparently ignored railway traffic signals.
MENA quoted official Egyptian sources as saying the death toll was at least 20. The crash happened when one train ran into the rear of another, causing one of them to derail and overturn.
It was the worst railway accident in Egypt since 2002, when about 360 people were killed when fire ripped through seven carriages of a crowded passenger train.
That accident was the worst in 150 years of Egyptian railway history, and led to the resignation of the transport minister and the head of the state railway system.
Source: Reuters