MARDIN, May 6, 2009 (AFP) - Eight suspects have been charged over the killing of 44 people at a wedding party in Turkey's Kurdish southeast, the Anatolia news agency reported, quoting a senior local official.
The suspects were among the 10 people detained over Monday's massacre linked to a clan feud in the small village of Bilge in Mardin province, provincial governor Hasan Duruer told the agency.
He did not give any other details.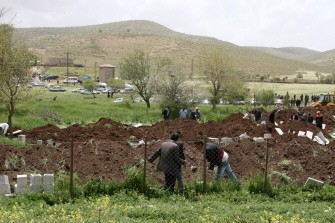 Villagers dig graves on May 5, 2009 in the Turkish village of Bilge outside the southeastern Kurdish city of Mardin after masked gunmen stormed late on May 4 the wedding party (AFP photo)