CHRISTCHURCH, New Zealand, Sept 6, 2010 (AFP) - New Zealand extended a state of emergency in earthquake-hit Christchurch Monday as the army enforced a no-go zone amid reports of looting in the rubble-strewn heart of the city.
Strong aftershocks continued to rock New Zealand's second-largest city following Saturday's 7.0-magnitude quake, prompting officials to close schools, shops and businesses.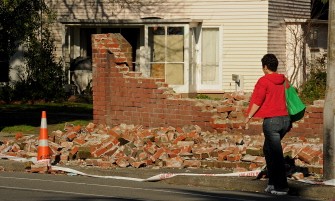 A woman walks past a brick fence of a house in Christchurch on September 6. AFP
The civil defence ministry began tearing down the worst-hit buildings and advised residents to stay at home until inspections of hundreds more damaged structures were completed.
"The state of emergency has been extended until midday Wednesday (0000 GMT)," a ministry spokesman told AFP.
Troops relieved exhausted police at checkpoints sealing off the city centre, which was deemed unsafe for the public due to the danger of falling glass and masonry.
Resident Anna Crighton described the disorienting spectacle of uniformed soldiers on duty down the street from her bed-and-breakfast on the fringe of the central business district.
"It's a strange sight, just absolutely eerie and very quiet," she told AFP. "There's hardly anyone around and no cars. I can look out of my window and just see a pile of rubble in the middle of the road."
Nobody was killed in New Zealand's most destructive quake in almost 80 years, but many residents recounted close shaves.
Marsha Witehira said a house guest saved her life by pulling her from bed before the wall of her room came crashing down.
"He pulled me down the bed by my feet and by the time he'd done that a brick had fallen from the wall right down beside my head," she told NZPA.
"I had just made it under the doorway and then the next minute my house was falling down around me."
Authorities have imposed a night-time curfew since Saturday after initial reports of looting.
Christchurch police superintendent Dave Cliff told Radio New Zealand that a number of "known criminals" were arrested as they attempted to enter the central business district posing as council workers.
A judge hearing burglary and theft charges against five men arrested in the quake's aftermath warned that anyone caught looting would be viewed "as being people who were capable of anything".
But judge Michael Crosbie also told Christchurch District Court: "Fortunately, the dominant mood of the town is one of help, assistance and support."
About 200 people whose homes were uninhabitable spent the night in shelters, while residents across the city were warned to boil drinking water due to the risk of contamination from ruptured sewerage pipes.
Prime Minister John Key warned it would be some time before life returned to normal in the city of 340,000 people.
Key appointed Economic Development Minister Gerry Brownlee as minister for earthquake reconstruction following the disaster, which caused total damage estimated at two billion New Zealand dollars (1.44 billion US).
"This isn't a short-term thing," said Key, who committed an initial 94 million dollars to restore Christchurch's damaged infrastructure.
Business owners were among the few people allowed into the city centre so they could assess damage to their properties.
Rose Lennon was forced to flee her homewares shop when an aftershock threatened to topple it. Demolition workers then moved in and reduced it to rubble.
"It's just heartbreaking," she said. "Today I should be operating, serving customers, instead I am sitting on the street watching it be ripped down."
Emergency workers gained some relief when a massive storm missed the city, easing fears of flooding.
However, the storm remained a danger in the wider Canterbury region and 150 people were evacuated from a caravan park near the town of Kaiapoi as a precaution.