Senior envoys from six countries began talks in Beijing on Democratic People's Republic of Korea nuclear drive on Monday, a Chinese official said, amid gloom about the prospects for progress after the country said it would snub Japan.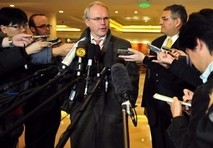 US Assistant Secretary of State Christopher Hill speaks to the media in Beijing on December 7. (AFP Photo)
The talks, likely a last-ditch effort by the administration of outgoing US President George W. Bush to move ahead on one of its most drawn-out diplomatic issues, were expected to begin at 4:00 pm (0800 GMT), the Chinese host said.
This was an hour later than previously scheduled, but a spokeswoman for the six-party talks who confirmed the new time declined to give a reason for the delay.
The chances of progress on dismantling the DPRK's nuclear weapons programme have been badly undermined by Pyongyang's refusal to recognise Japan as a participant, envoys admitted.
"I am afraid nobody among my counterparts saw any optimism in the prospects of the upcoming six-party talks," Republic of Korea's chief delegate Kim Sook warned Monday.
"So, we are going to do what we are going to do. Let's wait and see."
He told reporters he hoped the DPRK was not "dragging their feet" waiting to gauge the stance of the incoming administration of President-elect Barack Obama, who assumes office in January.
The talks group the United States, the two Koreas, China, Russia and Japan, but the North's apparent refusal to deal with Japan could pose a serious obstacle for the meeting at the Diaoyutai State Guest House in western Beijing.
DPRK said Saturday it would not recognise Japan's participation in protest at Tokyo's refusal to provide energy aid under an accord that offered Pyongyang energy and diplomatic concessions in return for denuclearisation.
"We will neither treat Japan as a party to the talks nor deal with it even if it impudently appears in the conference room, lost to shame," the communist country's foreign ministry said in a statement.
Chief US negotiator Christopher Hill Monday expressed only modest expectations for the negotiations.
"We've prepared well for the meetings so we'll see if it's possible to get anything done. We're not trying to solve all the problems," he said.
"Like all six-party meetings, it's going to be a difficult negotiation."
Beginning Monday morning, several of the delegations held bilateral meetings, including the two Korean teams.
"Bilateral relations also have significance for making progress in the six-party talks," Republic of Korea's chief negotiator Kim said before meeting with his DPRK counterpart Kim Kye-Gwan.
The latest round of six-party talks was scheduled to discuss how to verify DPRK's declaration of its nuclear facilities.
Under a landmark 2007 pact, Pyongyang agreed to disable facilities at its plutonium-producing Yongbyon nuclear complex and reveal its atomic activities.
In return, it was to get one million tonnes of fuel oil or energy aid of equivalent value. About half has been delivered.