Ethiopian Prime Minister Meles Zenawi in a BBC interview broadcast Thursday accused UN agencies of exaggerating the humanitarian and security emergency in Somalia, a country increasingly running adrift in the face of an insurgency.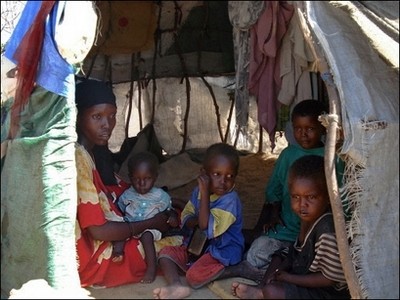 A Somali woman sits with her children inside a makeshift tent in a camp for Internally Displaced People in the outskirts of Mogadishu (Photo: AFP)
The UN says ferocious fighting between joint Ethiopia-Somali forces and insurgents in the capital Mogadishu, which has displaced at 600,000 people, has spurred Africa's worst humanitarian crisis.

"At the moment some UN agencies appear to be doing damage in respect of parroting totally unfounded reports by some agencies without in any way trying to verify the facts," Meles said.

"The situation there, as hard as it is, it could do with less hype and exaggeration," he added.

Meles, whose troops at the beginning of the year helped oust an Islamist movement from the country's southern and central region where it had ruled briefly, rejected accusations that his forces were deliberately firing at civilians.

"There has not been any indiscriminate firing on our side because it would be completely suicidal for us to engage in such an activity," the premier explained, around a year since his forces ventured into Somalia.

"Our intention is to give space to recreate the Somali state -- you do not create the Somali state by firing indiscriminately into civilian areas and civilian targets," he added.

"Nevertheless, its quite true that when you fight in build-up areas, there are bound to be civilian casualties and these are extremely regrettable."

The Ethiopian army has in the past accused Islamist-led insurgents of targeting civilians, notably in the capital's volatile Bakara market area.

The United Nations agencies say around 1.5 million people are in need of emergency humanitarian supplies across the divided war-shattered African nation hope to about 10 million people.

Aid groups have said the insecurity is choking their efforts to deliver supplies.

The African Union has only deployed 1,600 troops from Uganda of the 8,000 it planned to send to bolster President Abdullahi Yusuf Ahmed's feeble government as well as secure humanitarian operations.

"I understand why the African Union does not have the resources to fulfill its promise. But I hope that those who have the resources will support the African Union so they can deploy the peacekeeping troops," he said.

Asked if the Ethiopian forces would withdraw if there were half the number the AU peacekeepers, Meles said: "That would go along way in making an appropriate environment for us to withdraw."

On Wednesday, the UN Security Council renewed its call for the world body to pursue contingency planning for deploying a peacekeeping force in the country, and expressed "grave concern" at the humanitarian situation in Somalia.

The Council demanded that "all parties in Somalia ensure unfettered access for all humanitarian assistance and calls on them to fulfill their responsibilities and obligations under international humanitarian law."

Bloody clan conflict and power struggles that erupted after the 1991 ouster of dictator Mohamed Siad Barre continue to defy all efforts to restore stability in Somalia.