BRUSSELS, June 22, 2011 (AFP) - Europe's top leaders tackle a growing EU credibility gap Thursday as global critics and markets demand a game-changing breakthrough on Greece and the troubled eurozone at a pivotal summit.
Under notice from the International Monetary Fund, the United States and markets, the 27 European Union heads of state and government will seek to cajole allies into decisive action over two critical days of talks.
Originally intended to draw a line under the sovereign debt crisis, the summit could prove a defining moment for the EU as notions of Greece exiting the eurozone or even the entire bloc disintegrating are no longer taboo.
"The spectacle the Europeans have made of themselves in the face of the Greek crisis is an absolute disaster" for the cause of post-WWII integration, warned respected analyst Jean-Dominique Giuliani of the Robert Schuman Foundation.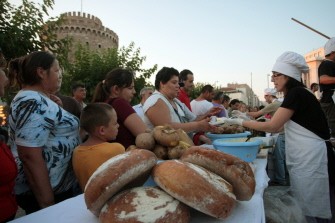 The Greek "ndignant" who protest for fifth week against austerity, give food in front of the White Tower in Thessaloniki on June 22, 2011.
The meeting has other big issues to ponder: shoring up another creaking symbol of mainland European unity -- its passport-free Schengen travel area -- as well as adjusting sights on Libya, slapping sanctions on Syria and looking at the path towards Palestinian statehood.
But it will be what the big states say and do for their shared currency area that determines whether a meeting of finance ministers set for July 3 can deliver both emergency and new long-term re-financing for Greece in an atmosphere of relative market calm.
Greek Prime Minister George Papandreou won a confidence vote to give the summit a platform on which to build, although Athens still has to push through legislation for five years of cuts worth 28 billion euros ($40 billion) and 50 billion euros of state sell-offs, on June 28.
At stake is a 12-billion-euro loan from last year's 110-billion-euro international bailout, and a second rescue package almost as big -- although even there, some believe the best Europe can do is paper over the cracks.
"Some just see this as delaying the inevitable fact that the eurozone is broken beyond repair," said ING Markets analyst Cameron Peacock after the IMF warned of the risk of "large global spillovers" given inadequate cross-border economic governance.
Italy's Foreign Minister Franco Frattini, with his country seen by ratings giant Moody's as next to be squeezed on money markets, warned on Wednesday that all Europe would feel the heat from a "credibility crisis" if leaders did not act "as soon as possible" to shield Greece.
One signal of intent they may back is a suggestion by European Commission chief Jose Manuel Barroso that a billion euros of routine EU funding could be brought forward.
Current European Central Bank president Jean-Claude Trichet will take part in the talks on the day the summit anoints Italy's Mario Draghi as his successor, as the leaders try to bury a damaging public row pitting Germany against France, the ECB and others, over how to persuade banks to delay calling in their Greek debts.
A row that drew a sharp rebuke from US Treasury Secretary Timothy Geithner, who warned this week that "it's very hard for people who invest in Europe to understand what the strategy is when you have so many voices."