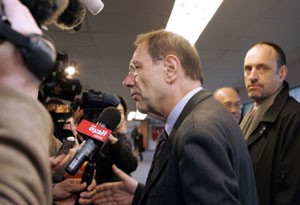 EU Foreign Policy Chief Javier Solana (C) talks to journalists in the EU Headquarters in Luxembourg 10 April 2006 (AFP Photo)
Speaking at a meeting of EU foreign ministers in Luxembourg, he meanwhile dismissed a report that the United States might take military action in the standoff with Tehran over its nuclear plans.
"We have to be prepared just in case they fail," he said, referring to diplomatic efforts to persuade the Islamic republic to renounce sensitive atomic activities, currently centred on the UN Security Council.
"We have to begin thinking about that possibility," he said, referring to the possibility of eventual sanctions. Asked specifically about a visa ban, he said that such a move "is a classical type of measure that is taken."
The EU official dismissed a report that US President George W. Bush is mulling military options to knock out Iran's nuclear program.
The New Yorker magazine has reported that the administration is planning a massive bombing campaign against Iran, including use of bunker-buster nuclear bombs to destroy a key suspected Iranian nuclear weapons facility.
"I have read the article ... I think it has nothing to do with reality," he said, although admitting: "I don't know what is going on in the Pentagon and the different levels of the Pentagon."
However, Solana said: "Any military action is absolutely out of the table for us."
Related Articles:
Oil Prices Rise, Supported By Fears of Conflict in Iran
US Considers Use of Nuclear Weapons against Iran: Report