The European Union moved closer Monday to banning imports of Syrian oil to punish the regime for its brutal repression of protesters, taking away a key source of cash for the country, diplomats said.
"There is a political consensus on a European embargo of imports of Syrian petroleum products," a diplomat told AFP on condition of anonymity.
The new sanctions were backed "without objections" by all representatives at a meeting of experts from the 27-nation bloc in Brussels, another diplomat said.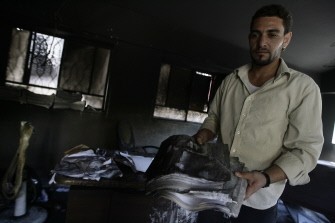 A Syrian employee inspects his burnt office at the courthouse of Duma, a suburb northeast of the capital Damascus on August 29, 2011
Individual EU governments are expected to give their final approval by the end of the week, the diplomat said.
The EU buys 95 percent of the oil Syria exports, representing between a quarter and one-third of government receipts, according to diplomats.
EU governments are still debating whether to add a ban on investments in the Syrian oil sector, diplomats said.
The UN says more than 2,200 people have been killed since anti-regime protests erupted in March.
On Monday, Syrian security forces killed six people and wounded dozens in raids in the northwest and around the capital, as tanks rumbled into a village bordering Lebanon further south, rights groups said.
The EU has already imposed a set of assets freezes and travel bans against Syrian President Bashar al-Assad and his regime over the crackdown.
Iran's elite Al-Quds force, accused of providing support to Syria's repressive machine, five Syrian generals and the military intelligence network in Damascus were added to the blacklist last week.
The list covered by EU asset freezes and travel bans now runs to 50 people and eight Syrian and Iranian entities.
The United States has also imposed a Syrian oil ban, but the move was mostly symoblic since Americans do not import oil from Syria.
Europeans are pushing the UN Security Council to sanction Syria, but a resolution to impose punitive measures was opposed last week by Russia, which hinted that it could use its veto power.
The European resolution, introduced by France, Britain, Germany and Portugal, with US backing, calls for an assets freeze against Assad and his associates as well as an arms embargo.
Russia has circulate an alternative draft text urging Syria to expedite reforms and the opposition to engage in political dialogue.
A senior Russian envoy held talks with Assad in Damascus on Monday. According to the official Syrian news agency, deputy foreign minister Mikhail Bogdanov said there was no change in Russian policy on Syria.
Iran, meanwhile, denied on Monday that the Al-Quds wing of the elite Revolutionary Guards had any role in Syria's internal affairs.
"Linking the incidents in Syria to the Al-Quds forces of the Revolutionary Guards without any proof or evidence is baseless," said foreign ministry spokesman Ramin Mehmanparast.
The European Union accused the force of providing "technical assistance, equipment and support to the Syrian security services to repress civilian protest movements."
In an earlier round of sanctions in June, the EU imposed penalties on three Revolutionary Guard commanders, including its chief, Brigadier General Mohammad Ali Jafari, accusing them of aiding the crackdown in Syria.
A senior Russian envoy said after talks in Damascus on Monday that there was no change in Russian policy on Syria which has been opposed to Western calls for sanctions, Syrian state media said.
"Russia's position on Syria is unchanged," the official SANA news agency quoted deputy foreign minister Mikhail Bogdanov as saying.
"The envoy affirmed his country's support for the reforms launched by Syria in the political and economic fields and expressed hope that its security and stability would be maintained," the agency added.
The Russian envoy, who held talks with both President Bashar al-Assad and Foreign Minister Walid Muallem, underlined the "importance of continued coordination between the two countries in all fields."
For his part, Assad expressed his appreciation for Russia's "balanced approach to developments in Syria," SANA added.
The Kremlin confirmed in a statement that President Dmitry Medvedev had sent a message to Assad but did not reveal its contents.
Russia's UN ambassador Vitaly Churkin had said last week that Moscow would send an envoy to Damascus, as the UN Security Council remained divided over new sanctions on Syria over its deadly crackdown on dissent.
Moscow staunchly opposes attempts by Western governments to push through a UN Security Council resolution targeting Assad and has circulated an alternative draft.
The Russian text, a copy of which was obtained by AFP, urges Syria to expedite reforms.
Britain, France, Germany, Portugal and the United States drew up their draft resolution last week but Russia and China have refused to attend informal talks on the document.
Russia has hinted it could veto any sanctions resolution put to a vote.
Moscow's rival text "calls upon the Syrian government to expedite the implementation of reforms in order to effectively address the legitimate aspirations and concerns of the Syria's people."
But it also "urges the Syrian opposition to engage in political dialogue" with the Assad government on reforms.
Churkin has said the proposed Russian resolution already had "strong support" from some nations on the 15-member council.
According to UN estimates, more than 2,200 people have been killed in the Syrian regime's crackdown on pro-democracy protesters since mid-March.