European Union leaders broke off talks late Thursday with no final agreement on an ambitious action plan to fight climate change, German Chancellor Angela Merkel said.
"There is no agreement as yet. We've all got to show a little patience," Merkel, whose country holds the EU's rotating presidency, told reporters after chairing the opening session of a two-day EU summit in Brussels.
However, she added: "I am not without hope".
The main sticking point to the plan, which aims to reduce emissions of the greenhouse gases that cause global warming, centred on some member countries' reluctance to agree to firm goals for the future use of renewable energy.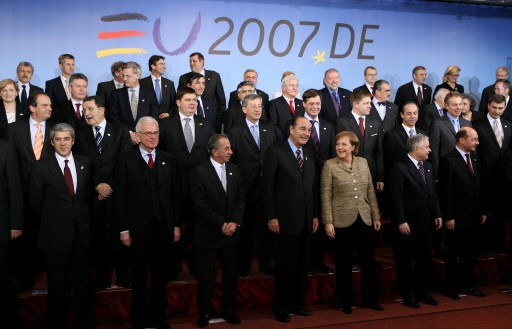 A general view shows European leaders posing for a family photo at the two-day EU summit on climate change in Brussels 08 March 2007.
Merkel wants the 27-nation bloc to commit to a binding target that 20 percent of EU energy consumption should be met by renewable sources by 2020.
"We talked about specific obligations -- increasing energy efficiency, biofuels, renewable energy. There is a need for further discussion on these three areas," she said.
"Some member states were asking: 'Are we really going to achieve these goals?'" she added.
France has said that it would accept the use of the word "binding" to be attached to the targets, but in return French President Jacques Chirac has demanded that nuclear energy be brought into the plan.
"Nuclear energy is not renewable energy," Merkel said.
But she said atomic power, which meets 40 percent of French energy needs, could be included in the EU's overarching aim of cutting carbon dioxide emissions by 20 percent by 2020, compared to 1990 levels.
"This overall reduction of 20 percent will also depend on the question of how to use cleaner coal technology, it could possibly include nuclear energy," she conceded.
"But you can't compare that to renewables, it's not the same thing."
German officials were preparing a new draft document for the leaders to consider again early Friday, when they gather at European Council headquarters from 0900 GMT.