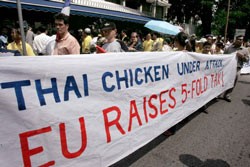 Some 500 Thai farmers protested outside European missions in Bangkok to urge the EU not to change its tariffs on Thai chicken as the industry recovers from international bird flu scares (AFP Photo)
The eurozone's trade balance improved sharply in June as imports fell and exports rose, data released Monday by the European Union (EU)'s Eurostat data agency showed.
The 12-nations sharing the euro booked a trade surplus of 2.0 billion euros (2.6 billion dollars) in June after a deficit of 3.2 billion euros in May, Eurostat estimated.
The June figure was sharply lower than the surplus of 6.8 billion euros that was recorded in the same month of 2005.
Exports grew to 116.9 billion euros in June from 115.0 billion in May while imports fell to 114.9 billion euros from 118.2 billion euros.
Meanwhile, the 25-nation EU showed a trade deficit in June of 11.8 million euros, down from a shortfall of 15.7 billion euros in May, but up from a deficit of 2.3 billion euros in June 2005.
When smoothed out for seasonal variations, the data showed that the eurozone had a trade deficit 1.1 billion euros in June compared with a shortfall of 1.2 billion euros in May.
Source: AFP