A United Nations official and an EU diplomat ordered out of Afghanistan on allegations of posing a national security threat left the country on Thursday, the two organizations said.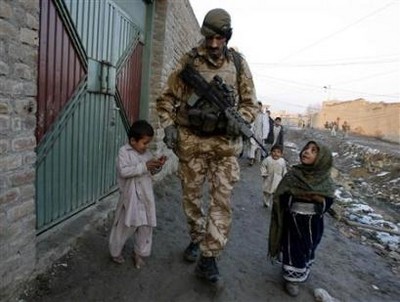 A British soldier from the NATO International Security Assistance Force (ISAF) gives sweets to children during a patrol in Kabul December 24, 2007 (Photo: AFP)
The UN employee, a British national, flew out on a UN flight, his organization said.

The European Union official, an Irish national who is the institution's second most senior representative here, also left, the EU said.

The United Nations did not name its employee, a political advisor, or say where had gone.

"Discussions are ongoing with the Afghan authorities to seek the return of this official so that we can continue with the important work of building peace in Afghanistan," UN spokesman Aleem Siddique said in a statement.

The government on Tuesday gave the men 48 hours to leave, saying they had posed a security threat. Officials said on condition of anonymity that the men had been in contact with the Taliban.

The UN says the affair is a misunderstanding which arose after the diplomats visited the southern town of Musa Qala, which was in Taliban control for 10 months until a military operation about two weeks ago.

They had visited in coordination with the Afghan government to assess "stabilization" efforts after the military offensive, Siddique said Wednesday.

The diplomats spoke with a range of locals including "people who are perhaps undecided whether they are supportive of the government of Afghanistan," Siddique said.

But they did not talk to the Taliban, he said.

A European diplomat said the matter was being dealt with at the highest levels, including by EU foreign policy chief Javier Solana.

"The question must now be sorted out through negotiations at the highest level by Solana and the Afghan president," he said on condition of anonymity.