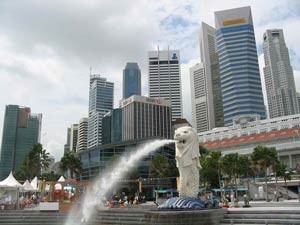 A view of Singapore
SINGAPORE, May 27, 2009 (AFP) - Singapore said Wednesday that visitor arrivals fell 6.1 percent in April from a year ago but at a much slower pace than the steep declines in the first three months of the year.
The city-state welcomed 780,000 visitors during the month, boosted by a strong growth in arrivals from Hong Kong, the Philippines, Vietnam and Germany, the tourism board said.
Arrivals fell almost 13 percent year-on-year in January, 15.2 percent in February and 13.2 percent in March as the global financial and economic crisis hurt travel demand.
Tourism is a major revenue earner for Singapore, which is expected to post its worst recession in more than 40 years this year.
Economists have said that while there are signs the worst may be over for the economy, there are no clear indicators of a quick recovery.
They have also warned that risks, such as an escalation of the global swine flu outbreak, remain.
Singapore on Wednesday confirmed its first case of swine flu.
The island-state was among the worst hit during the Severe Acute Respiratory Syndrome (SARS) health outbreak that grounded travel in East Asia in 2003.