A boat carrying dozens of Libyans who had been stranded in the rebel eastern bastion of Benghazi docked on Sunday in the capital Tripoli to reunite with relatives, an AFP reporter witnessed.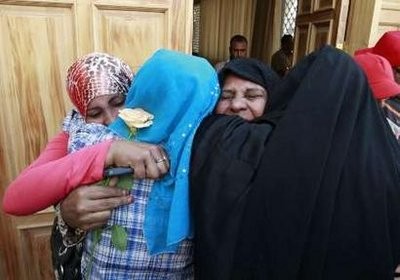 Libyan families embrace after disembarking a Red Cross ship at Tripoli Port June 26, 2011. The trip was organized by the International Committee of the Red Cross (ICRC) to evacuate some 120 people from Benghazi to Tripoli.
The boat chartered by the International Committee of the Red Cross carried 106 passengers, most of them women, elderly men and children, who had been stuck in Benghazi since the Libyan crisis erupted in February.
"These are families reuniting after weeks of separation due to the conflict," ICRC spokesman Robin Waouda told reporters.
Mohammed, a man in his 50s, waited for his sister and mother to disembark.
"I have not seen them in four months and communications with Benghazi are very difficult. Thank god the nightmare is over," he said, tears swelling in his eyes.
Some passengers raised portraits of embattled leader Moamer Kadhafi and green flags in a show of support to the regime.
On Friday the boat carried around 300 people, including 66 detainees freed by the Libyan regime in Tripoli, to Benghazi after the regime and rebels approved the exchange.